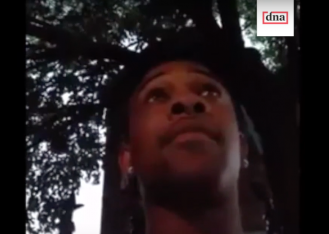 A 28-year-old Chicago man was shot to death on Wednesday evening, and the entire event appears to have been captured on a Facebook live stream video.
According to the New York Daily News, Chicago police and medical examiners say Antonio Perkins was killed as the result of a gunshot wound to the neck at approximately 8:45 p.m. in the city's West Side neighborhood of North Lawndale. After the shooting, a video originally obtained by DNAInfo shows a man who may be Perkins filming a Facebook live stream video when gunshots can suddenly be heard in the background. Police are reportedly still investigating to determine whether it is Perkins on the video.
WATCH (warning video contains graphic images that may be disturbing to some viewers):
The full version of the video reportedly shows a man in white tank top standing outside filming for several minutes when his eyes appear to look towards the street. Someone is then heard saying what sounds like, "Boy, stop it."
Several gunshots are suddenly heard and the camera goes blurry as the man appears to try to run away. The camera then falls to the ground and a woman's voice can be heard screaming in the background. The camera returns to focus and briefly captures a vehicle that appears to be driving away from the scene.
As the woman continues to scream, a man's voice is heard saying, "Call the police." The video camera lens then faces the ground again and the screen goes black.
The Daily News reports another Facebook user posted the video online along with an announcement that Perkins had been pronounced dead at the hospital on Wednesday night.
Have a tip we should know? [email protected]