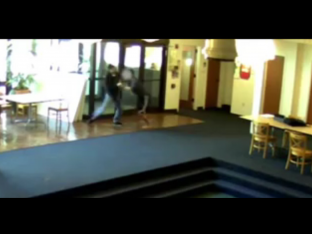 This week, the King County Prosecutor's Office released dramatic surveillance video from a 2014 shooting at Seattle Pacific University that shows a male student disarm the shooter and hold him down until help arrived.
According to KING 5 News, several local media outlets filed a court order to obtain materials related to the ongoing investigation into the shooter, Aaron Ybarra. He is currently awaiting trial for the 2014 shooting.  Ybarra is alleged to have shot and killed one student and injured two others at Seattle Pacific University.
WATCH (warning, some may find this video disturbing):
In the video, a man who police say is Ybarra enters the lobby of a building on SPU's campus holding a shotgun.  Two students appear to be studying at different tables in the room, but neither reacts suggesting they did not know the gunman was in the building.  A female student is then seen coming down a set of stairs and the gunman shoots her when she reaches the ground floor, but she is able to run out of the room.  She survived her wounds.
Unbeknownst to the shooter, SPU student Jon Meis is then seen on the video coming up behind him as he attempts to reload.  Meis, who is barefoot, charges at the shooter, sprays him with pepper spray, disarms him and takes the weapon into another room.  Meis then returns to the room and fights to hold the shooter down until another male student arrives to help him.
The KING 5 report notes that Meis was selected by the Congressional Medal of Honor Foundation in 2015 as one of three Citizens Honors Program honorees for his actions on that day.
In response to the release of the video, Seattle Pacific University issued the following statement:
We are disappointed by the release of the surveillance videos of the June 5, 2014, shooting on our campus. We, along with others, have pursued legal action to stop the videos' release in order to protect individual privacy and prevent the emotional distress these images will have on our community. Seattle Pacific University remains strong and resilient as a result of God's faithfulness to us. Our foremost concern continues to be the welfare and safety of not only our students, faculty, and staff, but of the victims and witnesses of the tragedy.
Editor's Note: An earlier version referred to the school where this happened as Pacific University in Seattle, it was actually Seattle Pacific University. 
Have a tip we should know? [email protected]