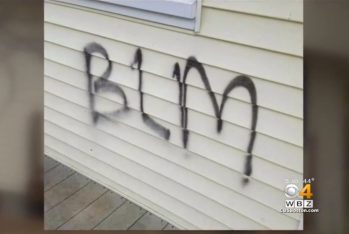 The wife of a police officer in Millbury, MA claimed that she was the victim of a robbery earlier this month where someone ransacked her house and stole thousands of dollars worth of jewelry.  The woman also claimed the perpetrator spray painted "BLM" (for Black Lives Matter) on the exterior of the home.  However, cops are now saying the incident never occurred and the officer's wife staged the break in due to her own financial problems.
According to the Boston Herald, Maria Daly reported a break-in at her home on October 17.  Millbury police Chief Donald Desorcy says officers began to question her account during the investigation into the incident, and Ms. Daly eventually admitted to fabricating the incident.  She also admitted to still having possession of the jewelry she reported missing.
WATCH:
Chief Desorcy said investigators believe Ms. Daly's actions were motivated by her own financial troubles.  She was charged with filing a false police report and misleading a police investigation and is expected to be summoned to Worcester District Court in the near future.
Daly's husband, Daniel Daly, is a K-9 officer with the Millbury Police Department, but Chief Desorcy said Officer Daly was not involved in the hoax and is not facing any charges.
[image via screengrab]
Have a tip we should know? [email protected]