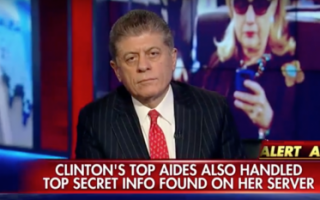 Judge Andrew Napolitano appeared on America's Newsroom on Monday to speak with Martha MacCallum about new information that came out over the weekend about the FBI criminal investigation into Hillary Clinton's use of a private email server while serving as Secretary of State.
Judge Napolitano said Clinton is simply putting on a front when saying she is happy over the news that broke last week about her former aide, Bryan Pagliano, being offered immunity by the DOJ.  According to Judge Napolitano, Clinton is likely very worried about what the aide may say to investigators.
"[Pagliano] was present at the creation of what a lot of people believe and evidence shows was an agreement in the office of the Secretary of State to avoid the Freedom of Information Act laws and the espionage laws by the manner in which she cared for the national security secrets reposed to her via email," Judge Napolitano told MacCallum.
Judge Napolitano then repeated a claim he first made last week that the immunity agreement is a sign that a grand jury has been empanelled to hear the case.  He went on to say that as the FBI reaches the completion of its work — likely by late spring — Clinton will be put in the difficult situation of deciding whether to testify before the grand jury.
"Now she has a catch-22:  If she speaks with them, not knowing what they know, she could kill herself legally; If she doesn't speak with them and the word gets out, that could kill her career politically," Napolitano said.  "She is in very, very turbulent waters legally."
On top of all of that, Judge Napolitano mentioned a related story that came out over the weekend, that of the 2,093 classified emails found on Clinton's email server revealed that she authored of over 100 of them. Judge Napolitano stated that Clinton sent the classified messages to recipients who did not have the necessary security clearances.
"That is far more than what General Petraeus pleaded guilty to," Napolitano said.
It is also important to note that based on Clinton's training and Executive Order 13256 and NDA agreement obligations, she should have known to preliminarily treat any correspondence that she originally generated (or authored) as classified, pending final review.  She should not have sent it out over her private server.
Judge Napolitano also dismissed the significance of the New York Times report last week that claimed Pagliano's logs showed no foreign infiltration attempts.  Napolitano explained that whether they were tapped (and its possible they still were, per Napolitano) is irrelevant for the purposes of most statutes — the mere fact that they were held in an unsecured place is what matters.
"[T]he infractions can be shown by intent and gross negligence… the evidence of her gross negligence is well documented, publicly known and quite frankly, overwhelming," Napolitano said.
WATCH:
[image via screengrab]
Have a tip we should know? [email protected]