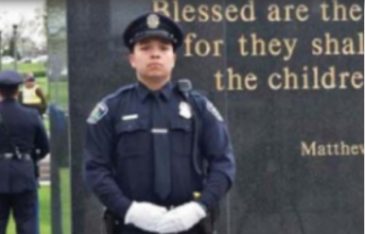 The Ramsey County, Minnesota prosecutor announced the shooting of Philando Castile was not justified and the police officer has been charged with second-degree manslaughter. Officer Jeronimo Yanez faces two additional charges which include dangerous discharge of a firearm.
BREAKING: Use of deadly force NOT justified in #PhilandoCastile case, Ramsey Co attorney says. Officer charged with 2nd-degree manslaughter.

— Evan Rosenfeld (@Evan_Rosenfeld) November 16, 2016
Earlier this year, Castile was pulled over by Officer Yanez and during the course of the stop the officer says he observed Castile reaching for a weapon, despite commands to not move his hands. At that point, the officer says he opened fire.
However, a woman in the passenger seat began recording the incident on Facebook Live video immediately after the shooting.  On the video and in subsequent interviews, the female passenger has claimed Castile informed the officer that he had a handgun.  She has also claimed Castile was reaching for his wallet at the time of the shooting.
WATCH:
Under Minnesota law, Manslaughter in the Second Degree is defined, in part:
 A person who causes the death of another by any of the following means is guilty of manslaughter in the second degree and may be sentenced to imprisonment for not more than ten years or to payment of a fine of not more than $20,000, or both: (1) by the person's culpable negligence whereby the person creates an unreasonable risk, and consciously takes chances of causing death or great bodily harm to another
This is a breaking story and LawNewz.com will provide more updates throughout the afternoon.
[image via SAPD]
Have a tip we should know? [email protected]