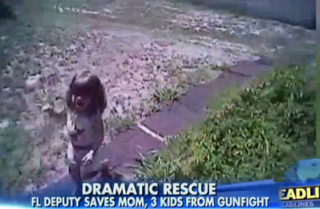 Footage from a sheriff deputy's body camera captured the first-person perspective of the daring rescue of a woman and her three children. The officer responded to a Florida woman's 911 call that said her husband had a gun and was coming towards her. The video, obtained by Fox News shows what the Volusia County deputy saw as he sprang into action after hearing what sound like shots being fired.
When he arrived at the house, the deputy found the woman on the ground, shot in the leg. After locating the woman, he then found and gathered her children, who were not harmed.
The husband was arrested and is being charged with attempted murder.
[Image via screengrab]
Have a tip we should know? [email protected]