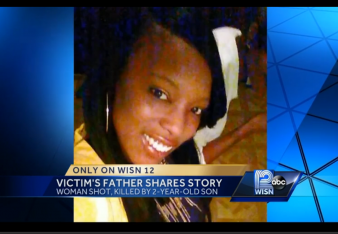 Police in Milwaukee on Tuesday morning reported to calls that a woman was shot in a vehicle driving on Highway 175.  After further investigation, the Milwaukee County Sheriff's Office says the woman was accidentally shot and killed by her 2-year-old child who got ahold of a gun in the backseat of the vehicle.
According to WISN, the victim was identified as Patrice Price, 26, a hardworking mother of three children.  Prince's father, Andre Price, said his daughter was driving her boyfriend's vehicle at the time of the incident.  The father told WISN that Price's boyfriend worked as a security guard and they believe he accidentally left the gun in the vehicle.  The 2-year-old child was then able to get ahold of the gun and accidentally fired a single shot into his mother's back as she was driving on Highway 175.
"Now I don't have her no more. My chest has been hurting," Andre Price told WISN. "I have a knot in my chest. They won't even let me see my daughter. I wanted to hold my daughter for one last time."
The Milwaukee County Sheriff's Office says deputies arrived on scene where they found the victim with a single gunshot wound to her back.  She was pronounced dead at the scene.
[image via screengrab]
Have a tip we should know? [email protected]