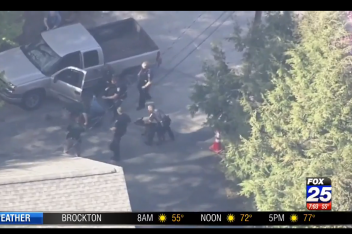 Two state troopers involved in the arrest of a suspect after a multi-state high speed chase on Wednesday have been relieved of active duty.  At the conclusion of the chase, a television news chopper camera recorded footage that appears to show several troopers repeatedly punching the suspect after he attempted to surrender.
The names of the two troopers have not been released, but authorities told NECN that one trooper was from the Massachusetts State Police and the other was a New Hampshire State Trooper.
The state Attorney General's office will conduct an investigation into the incident, according to New Hampshire State Police Director Col. Robert L. Quinn.  The New Hampshire trooper has already been placed on unpaid leave, pending the outcome of the full investigation.    
"I want the public and law enforcement personnel to know that the Division of State Police does not condone the unjustified use of force and it will not be tolerated,"  Quinn said, according to NECN. "The core values of our state troopers are fairness, professionalism and integrity… I assure that any wrongdoing will be dealt with in full compliance of the law and our professional standards of conduct."
Massachusetts will conduct its own investigation into the incident.  The Massachusetts State Police will hold a hearing on Friday to determine whether its trooper will be placed on modified-duty through the remainder of its investigation.
"The Massachusetts State Police expect and demand all department members to act at all times with integrity, honor, and adherence to the law," Massachusetts State Police Col. Richard D. McKeon told the news station. "If it is determined that a department member has not lived up to those expectations, we will take appropriate action."
WATCH:
The incident began on Wednesday when local police officers attempted to stop Richard Simone, 50, near Holden, MA.  The Massachusetts State Police took over the chase that reached speeds of over 100 mph at times and New Hampshire troopers joined once it crossed over the state line.  The chase ended approximately 50 miles away in Nashua, New Hampshire.
As the chase reached its conclusion, a news chopper flying over the scene recorded video that appeared to show multiple troopers punching Simone after he surrendered.
Simone appeared in a New Hampshire courtroom on Thursday and waived extradition, NECN reports.   He will be transferred back to Massachusetts where he was already wanted on multiple outstanding warrants.  According to the Massachusetts State Police, Simone will face further charges stemming from the chase, including assault with a dangerous weapon, negligent operation, failure to stop for police, speeding and a marked lanes violation.
[image via screengrab]
Have a tip we should know? [email protected]