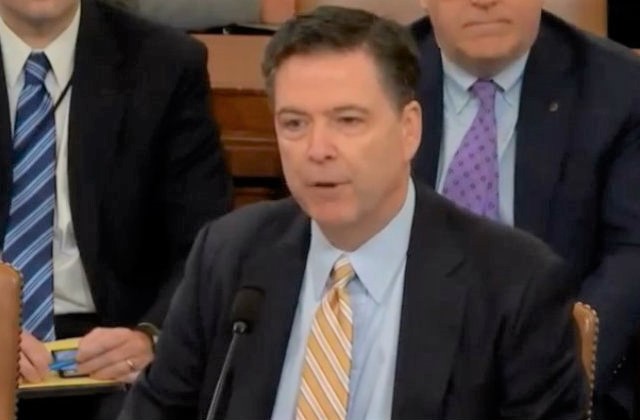 If there's one thing we know about President Donald Trump, it's that he's not afraid to yell, "you're fired!" anytime he hears something he dislikes. 45 must be practicing his termination declarations Monday, after a day of James Comey's testimony before Congress. Comey, the Obama-appointed FBI director testified today before the House Intelligence Committee, and that testimony boiled down to this: Obama's wiretapping is "fake news," and the Trump-Russia connection isn't (or at the very least they are investigating).
If you're thinking that it's a little weird for the FBI to be commenting on an open investigation, you're right. The FBI is generally pretty tight-lipped about its work. But bizarre times call for bizarre measures, and Comey explained that in "unusual circumstances where it is in the public interest," he would share what information he could about what's been going on with our president.
Comey began his hours of testimony with this confirmation that Trump's campaign is being investigated, and that investigation is a criminal one:
"I have been authorized by the Department of Justice to confirm that the FBI, as part of our counterintelligence mission, is investigating the Russian government's efforts to interfere in the 2016 presidential election and that includes investigating the nature of any links between individuals associated with the Trump campaign and the Russian government and whether there was any coordination between the campaign and Russia's efforts. As with any counterintelligence investigation, this will also include an assessment of whether any crimes were committed."
The testimony would have made Trump look bad enough, even without Trump's tweet, sent just hours before the hearing began:
James Clapper and others stated that there is no evidence Potus colluded with Russia. This story is FAKE NEWS and everyone knows it!

— Donald J. Trump (@realDonaldTrump) March 20, 2017
Next came the following exchange between Representative Adam Schiff and Comey regarding President Trump's Saturday-morning tweet accusing then-President Obama of wiretapping Trump Tower:
SCHIFF: First, the president claimed, quote, "Terrible. Just found out that Obama had my wires tapped in Trump Tower just before the victory. Nothing found. This is McCarthyism," unquote.

Director Comey, was the president's statement that Obama had his wires tapped in Trump Tower a true statement?

COMEY: With respect to the president's tweets about alleged wiretapping directed at him by the prior administration, I have no information that supports those tweets and we have looked carefully inside the FBI. The Department of Justice has asked me to share with you that the answer is the same for the Department of Justice and all its components. The department has no information that supports those tweets.

SCHIFF: The president accused Mr. Obama and presumably the FBI of engaging in McCarthyism. As you understand the term McCarthyism, do you think President Obama or the FBI was engaged in such conduct?

COMEY: I'm not to try and characterize the tweets themselves. All I can tell you is we have no information that supports them.

SCHIFF: Were you engaged in McCarthyism, Director Comey?

COMEY: I try very hard not to engage in any isms of any kind, including — including McCarthyism.
Ouch. President Trump probably had today blocked out on his calendar for some fist-bumping over the opening of the Neil Gorsuch confirmation hearings. Those hearings were wildly overshadowed by Comey's testimony, which painted pictures of Trump as everything from foolish to criminal.
While Donald Trump is known for his pervasive inconsistency, he is consistent about one thing: getting rid of those who threaten his authority. He has been known to fire (or, if we're talking Hillary Clinton, threaten to "lock up") any worthy opponent. Just last week, news broke that Trump had fired U.S. Attorney for the Southern District of New York Preet Bharara and dozens of other U.S. Attorneys. Although turnover of federally-appointed prosecutors is typical, Bharara's firing was not. For starters, it opposed a public announcement last November that Bharara had been officially asked to stay on into the Trump administration. Stranger still was the timing. Right at the time he was fired, Bharara had reportedly been conducting an investigation into Tom Price, Trump's new Health and Human Services Secretary, over some shady stock transactions.
By contrast, Comey's calling Trump out for lying about President Obama, while simultaneously confirming that the FBI is amidst an investigation over collusion with Russia is a one-two punch that leaves the Price investigation in the dust. Trump, a compulsively reactive person when publicly embarrassed, is likely doing far more than licking his wounds right now. But could Trump really fire James Comey?
He sure can. Under federal law, the F.B.I. director is appointed to one 10-year term – a term length purposely created such that it overlaps presidential administrations. Presidents may fire the FBI director (and Congress can impeach one) – and according to a 2014 report by the Congressional Research Service, "there are no statutory conditions on the President's authority to remove the FBI Director." While some FBI directors have resigned prior to the end of their terms, only one – William S. Sessions (appointed by President Ronald Reagan in 1987) – was ever fired. Sessions was fired by President Bill Clinton in the wake of allegations of ethics violations, such as misuse of public funds for his private benefit.
It was impossible to listen to Comey's testimony Monday without anticipating Trump's cutting short his tenure as Director. And yet, such a reality was all but unthinkable just a few short months ago. James Comey's unprecedented public statement made the week prior to the 2016 presidential election was largely considered the thing that sealed President Trump's win. Just a few days before Election Day, Comey announced that the Hillary Clinton was being reopened. Although little came of the announcement relative to that investigation, the bell could not be un-rung, and Hillary Clinton was pronounced for evermore, "extremely careless" with the handling of classified information. Candidate Trump could not have asked for a better gift; many, though, like Senator Harry Reid, and ethics specialist Richard Painter, criticized Comey for having acted improperly and perhaps even illegally.
Monday's hearing may have been the ultimate full-circle. Or perhaps the ultimate penance. James Comey, intentionally or not, almost certainly helped Trump secure his win in November. And now, his statements suggest Trump to be a liar at best and a traitor at worst. While Trump may have amused himself with tweeting in real-time today, as if the Congressional Hearing was some kind of reality show finale, I'd bet a search of his Google history would show, "can the president fire the FBI director?"
This is an opinion piece. The views expressed in this article are those of just the author.
Elura Nanos - Columnist & Trial Analyst, Law & Crime; CEO Lawyer Up