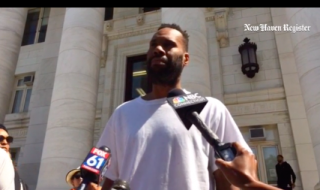 Many members of the community have come out in a support — and also to offer praise– for a former Yale University employee who was arrested for smashing a window depicting slaves. Student supporters have even set-up a gofundme page which has raised nearly $20,000 to help the man with legal expenses. The stained glass window showed slaves carrying cotton and was part of an on campus building.
"I can just tell you what I did.. I basically, an image was brought to my attention and I destroyed that image. I probably shouldn't have but I did it. It was a disturbing image, what appeared to be two slaves, a male and a female," Corey Menafee told reporters outside of court in New Haven, Connecticut. Menafee was charged with the second-degree misdemeanor of reckless endangerment and a felony charge of criminal mischief, according to The New Haven Independent.
We just heard from Corey Menafee outside #nhv court. He did say a bit about what happened. https://t.co/BwIJD0aSe0

— Wes Duplantier (@breaking203) July 12, 2016
Hundreds of Yale students also signed an "open" letter to Yale's President Peter Salovey asking for the school to refrain from aiding in his prosecution, and to reinstate him back to his position at Yale. The School, in a statement to USA Today, said that he had resigned.
The students wrote in the letter:
For decades, primarily Black dining hall workers have served primarily White students beneath Arcadian depictions of slavery in a college named for a man who devoted his life to their servitude. Yet you privileged the sentimentality of rich White donors over racial equality by keeping that name. You patronizingly explained that we should value the name "Calhoun" as a history lesson, even though it relegates Black staff and students to continue to work and live under the shadow of slavery.

And now you have called the police on a Black man for shattering an image that celebrates Black bondage. You called the police even though Mr. Menafee presented no immediate threat and you would never have done so if Mr. Menafee were a student. Most shamefully, you called the police in full knowledge of the humiliation of arrest and the potential consequences of prosecution for him and his family.
The window was part of Calhoun College, which has been the subject of recent controversy because it bears the name of former Vice President John C. Calhoun, who was a strong defender of slavery in the early 1800's. Students demanded the school be renamed, but their demands were ulitimately rejected.
"I'm glad that (Menafee) did it. Yale's crime — continuing to display racist images that made student and staff uncomfortable — was far worse than his," Fish Stark, a Yale Student told USA Today. "I think everyone agrees that vandalism is wrong, but vandalizing something that is racist and degrading is a lesser evil than displaying that racist thing. … While he broke a rule, he helped far more people than he hurt."
According to the newspaper, the university released a statement on Manatee saying that the school had "requested that the State's Attorney not press charges. Yale is also not seeking restitution." The statement added that, even before this happened, a committee recommended that the window be replaced, and conserved for possible "contextual exhibition."
Have a tip we should know? [email protected]
Rachel Stockman - President / On Air Host