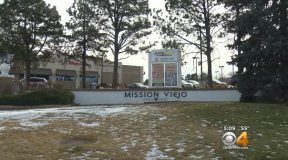 Falling on the heels of the highly publicized and horrendous incident involving four black assailants abusing a mentally challenged young man, there is another possible hate crimes incident which has just recently occurred in Aurora, Colorado.
Police are currently investigating a possible racially-motivated sexual assault which allegedly took place outside of an Aurora shopping center.  The alleged attack, which was perpetrated at the Mission Viejo Plaza Shopping Center against a 23-year old white woman, is said to have been carried out by two black men who hurled racial slurs at the woman before leaving the scene.  The woman had not had previous contact with the attackers.
According to the local CBS affiliate, CBS4, Aurora police would not comment on whether they plan to pursue the case as a hate crime or a bias-related attack.  Although the Aurora police department has been canvassing the area, no suspects have been apprehended.
[image via screengrab/CBS4]
Have a tip we should know? [email protected]