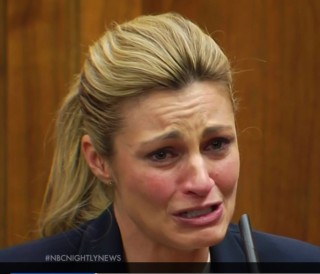 An emotional Erin Andrews testified Tuesday in the civil trial against Michael Barrett, the man who took video of her naked in a hotel room through the peephole of the door, and the Nashville Marriott that gave him the room.
Andrews said what hurts her the most is when high school or college girls say, "I want to be Erin Andrews, except for the Marriott stalker thing." She dreads having to talk to her future children about this, when their friends inevitably say something at school. She also testified that her former employer, ESPN, made her give a national interview before returning to work following the incident.
The case stems from a 2008 incident that happened at the Marriott at Vanderbilt University, in which a man videotaped Andrews changing in her hotel room. He then proceeded to post the naked videos on the internet. In addition to the suspect, Andrews made a $75 million claim against the hotel, saying that they negligently gave Barrett her room number and let him stay in the room next door.
WATCH LIVE testimony in the video below via WKRN. Testimony is expected to start up again later Wednesday morning. Stay with LawNewz.com for updates and continuing coverage of this case.

Have a tip we should know? [email protected]
Rachel Stockman - Editor in Chief / On Air Host