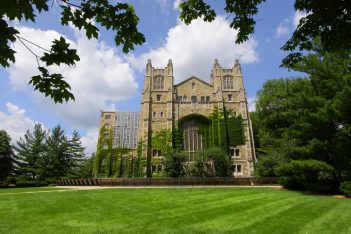 On Wednesday, the University of Michigan  added a section to its campus directory that allows students to choose the personal pronoun they want to be used by faculty and staff.
"A designated personal pronoun is a pronoun an individual chooses to identify with and expects others to use when referencing them (he, she, him, his, ze, etc.)," the university explained in an email obtained by the Detroit Free Press newspaper.
The decision to add the pronoun option was made as part of an effort to "foster inclusiveness" on the university campus, according to the report.  The decision was made by the university's Pronoun Committee that reviewed the issues after a petition called for the new option.
"Asking about and correctly using someone's designated pronoun is one of the most basic ways to show respect for their identity and to cultivate an environment that respects all gender identities," the email from the university states.
Dictionary.com defines "ze" as a gender neutral pronoun that can be used in the place of the masculine "he" or feminine "she."  However, other online dictionaries such as Merriam-Webster do not list "ze."
Selected designated pronouns will automatically appear on all class rosters and the announcement also provided faculty members with guidance on how to implement the changes.
"Faculty members play a vital role in ensuring all of our community feels valued, respected and included. Given that this process is new, we ask that faculty members review their rosters again in mid- to late October to give students time to designate their pronouns," an email message from the university states.
If a faculty or staff member incorrectly addresses a student by the incorrect pronoun they are instructed to "acknowledge that you made a mistake and use the correct pronoun next time."
A university spokesman told the website Heat Street faculty members would not be punished for using the wrong pronouns, unless there was a "persistent pattern of ignoring a student's preference."
Have a tip we should know? [email protected]