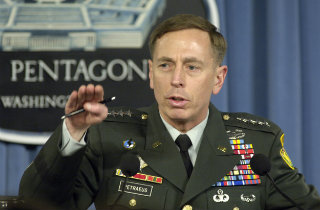 For a candidate who made putting Hillary Clinton in jail a cornerstone of his campaign, you may be shocked to learn that President-elect Donald Trump is considering making David Petraeus our new Secretary of State. Yes, that General Petraeus who, just last year, pleaded guilty to a misdemeanor charge of mishandling classified materials. Petraeus is still in the midst of serving his two-year probationary period after paying a $100,000 fine.  Despite that, according to The New York Times, he is a top contender for the SoS spot:
Giuliani is apparently in competition with several others for the secretary of state position, including David H. Petraeus, the retired four-star general who served as Mr. Obama's C.I.A. director before leaving amid revelations that he had provided classified information to a woman with whom he was having an affair.
While Petraeus is considered one of the greatest military minds of his generation, his background raises serious questions about his ability to be trusted with top secret information. Or, at the very least, it exposes the ever fluctuating standards by which Trump judges someone "fit" for office. Take what Trump said about Clinton just two short months ago:
"If she applied for a low-level job at the State Department today she couldn't even get a security clearance," Trump said back in September.
According to court documents, Petraeus admitted to removing notebooks ("black books") with classified information and giving them to his biographer, and also mistress, Paula Broadwell. He skated by without serving any prison time, much to the chagrin of some in the FBI/DOJ who initially wanted to charge him with felonies including lying to the FBI and violating a section of the Espionage Act. And while the four star general's record as a military commander is stellar, don't forget, it was just more than a month ago that Trump was threatening to put Clinton in jail for her handling of classified information, which wasn't even deemed criminal by the FBI.
"The key element that distinguishes Secretary Clinton's email retention practices from Petraeus' sharing of classified information is that Petraeus knowingly engaged in unlawful conduct, and that was the basis of his criminal liability," former federal prosecutor Anne Tompkins who oversaw the prosecution of Gen. Petraeus,wrote a a recent USA Today opinion piece.
Even more concerning is whether, if given the job, Petraeus could get a security clearance. According to a recent report, the CIA and Department of Defense declined to say whether Petraeus still had a security clearance.
According to the State Department's website, in order to be eligible to receive classified information:
 It must be determined that the individual's personal and professional history indicates loyalty to the United States, strength of character, trustworthiness, honesty, reliability, discretion, and sound judgment, as well as freedom from conflicting allegiances and potential for coercion, and a willingness and ability to abide by regulations governing the use, handling, and protection of classified information. (emphasis added)
That last factor might be troubling for Mr. Petraeus based upon his recent conviction. But considering Trump's other top contender for Secretary of State is accused of taking money from a shady Iranian dissident group, a simple misdemeanor crime might be welcome news.
This is an opinion piece. The views expressed in this article are those of just the author.
Rachel Stockman - President / On Air Host