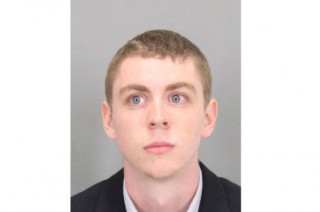 New reports are emerging that former Stanford swimmer Brock Turner or his friends may have passed around pictures of breasts the night he assaulted a young woman behind a dumpster. Some media reports indicate that it was Turner who sent the picture, but nothing has been confirmed by investigators.
The Daily Mail obtained a copy of the people's sentencing memo which references how detectives noticed a text message in Turner's "Group Me" application that stated, "Who's tits are those?" The app also showed that a picture had been sent. Detectives said that a search warrant was obtained for Turner's phone. However, detectives were not able to find any pictures attached to the application. It is possible that a friend erased the photo upon learning of Turner's arrest.
"[T]hey (investigators) learned that when there is a third party application, the images are not stored in the phone and can be deleted by a third party member in the group," the memo says.
What is also interesting, LawNewz.com, reviewed the police report and discovered a statement from a witness who recalls seeing the following on the night of the assault:
He noticed a male subject standing over her (the victim) with a cell phone. He was holding the cell phone. The cell phone had bright light pointed in the direction of the female, using either a flashlight app in his phone or its built in flat. He approached the subject and asked everything was okay. The male subject did not saying anything…
The male subject was not identified. Turner was sentenced to six months in county jail after being convicted of three felony counts of sexual assault.
Have a tip we should know? [email protected]
Rachel Stockman - Editor in Chief / On Air Host