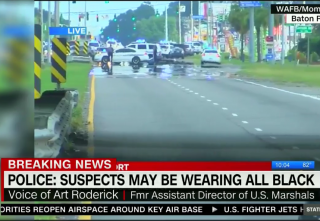 Details are still coming in after a reported shootout that took place in Baton Rouge, Louisiana on Sunday morning.
A source told CNN that police received a call about a "suspicious person walking down Airline Highway with an assault rifle," and that a suspect began firing when police arrived on the scene.
An official stated that the victims are officers from the Baton Rouge Police Department and the East Baton Rouge Parish Sheriff's Office. Three of the officers are reportedly dead, with others currently hospitalized and in critical condition, a source told CNN.
Authorities say that one suspect has been killed during a shootout with police, but they believe there are multiple suspects and are asking people to keep an eye out for suspicious activity.
Louisiana Gov. John Bel Edwards said, "This is an unspeakable and unjustified attack on all of us at a time when we need unity and healing."
Update 7/17/16 5:16pm: Law enforcement officials have identified the suspect who was killed as Gavin Long, 29.
Have a tip we should know? [email protected]