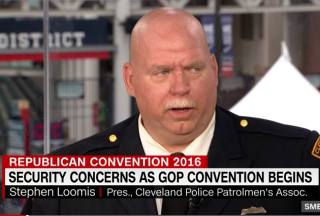 The president of the Cleveland Police Patrolmen's Association, Stephen Loomis, is worried about the prospect of a volatile scene surrounding the upcoming Republican National Convention, which begins in Cleveland on Monday, especially given Ohio's gun laws which allow licensed gun owners to carry firearms in public. Loomis, who heads one of the largest police unions in the city, is calling on Ohio Governor and former Presidential candidate John Kasich to declare a state of emergency to suspend the state's "open carry'"law, Reuters reported.
"I don't care if it's constitutional or not," Loomis said in an interview with CNN discussing a letter his organization sent to the governor, asking for help. "They can fight about it after the RNC or they can lift it after the RNC, but I want him to absolutely outlaw open-carry in Cuyahoga County until this RNC is over." Weapons are banned from being carried within a "secure zone" inside and around the convention venue, but not the surrounding area.
Kasich denied the request, saying, "Ohio governors do not have the power to arbitrarily suspend federal and state constitutional rights or state laws as suggested."
In the wake of Sunday's shooting in Baton Rouge that left three officers dead, Loomis said that police in Cleveland would be diligent in inspecting anyone carrying a weapon in downtown Cleveland, where the convention will take place at the Quicken Loans Arena. "We are going to be looking very, very hard at anyone who has an open carry," Loomis said. "An AR-15, a shotgun, multiple handguns. It's irresponsible of those folks — especially right now — to be coming downtown with open carry AR's or anything else. I couldn't care less if it's legal or not. We are constitutional law enforcement, we love the Constitution, support it and defend it, but you can't go into a crowded theater and scream fire. And that's exactly what they're doing by bringing those guns down there."
While Loomis speaks for the police union, the Cleveland Police Department has not commented on this.
Have a tip we should know? [email protected]