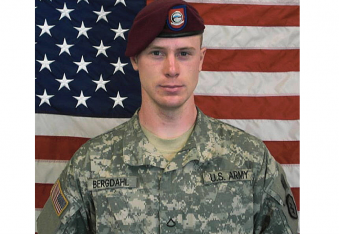 A new motion provides the most detailed plan to date of how military prosecutors plan to present certain evidence against Bowe Bergdahl in his upcoming court martial proceeding.  Specifically, the motion provides details of how military prosecutors plan to show Bergdahl endangered fellow soldiers by walking off his post in Afghanistan in 2009.  This is an important element of one of two charges against Bergdahl — misbehavior before the enemy.  He also faces one charge of desertion.
According to the motion filed on September 1, prosecutors are asking a judge to rule that they can present evidence of injuries received by two soldiers: Mark Allen and Jonathan Morita.  Prosecutors say both men were part of unit that was ordered to relocate to participate in the search for Bergdahl in the immediate aftermath of his decision to walk off the base.
They allege Morita received injuries to his hands after the rifle he was holding was struck by an RPG fired by an enemy soldier while on a search and recovery mission.  The RPG round did not explode, but the force of the impact still caused Mortia to suffer several broken bones in his hands and shrapnel injuries to his forearm.
Prosecutors say Allen was also part of the search and recovery mission. He was shot in the head and suffered traumatic brain injury that left him confined to a wheelchair and unable to communicate.  The Marion, IL VA Medical Center tweeted these photos of Army Master Sgt. Mark Allen and his family this past spring:
U.S. Army Master Sgt. Mark Allen with his wife Shannon and their children. pic.twitter.com/I4NHdNVGDs

— Marion VAMC (@MarionVA) March 19, 2016
According to the Army Times, Bergdahl's defense team did not respond to request for comment on the recent filing. However, the report says Bergdahl's team previously addressed the injuries to Master Sgt. Allen in a separate court filing earlier this year.
"Allen's injuries were directly caused by the Taliban, not by SGT Bergdahl," defense attorney Eugene Fidell wrote back in January 2016.
Have a tip we should know? [email protected]