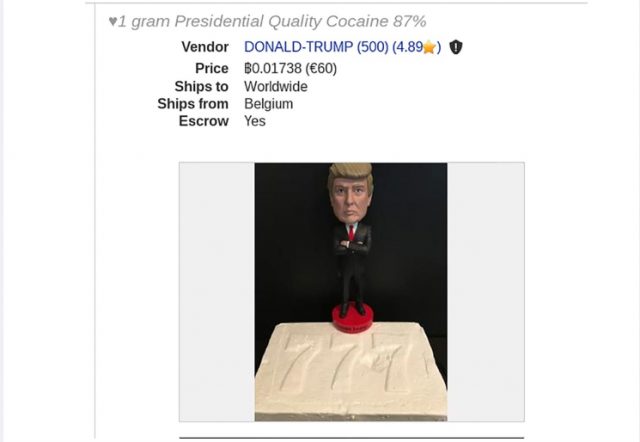 President Donald Trump's brand is so popular–or perhaps so infamous–that even drug dealers are cashing in.
Camped out amidst the Wild West-like environs of the so-called Dark Web (or Dark Net) are multiple online businesses peddling illicit wares using and featuring the image of America's 45th president.
One business simply calls itself "Donald Trump" and often refers to their storefront as the "Trump Towers" while hawking ecstasy, cocaine and ketamine–a versatile substance widely known for its use as a horse sedative and recreational club drug.
The Dark Web drug-dealing version of Donald Trump has even pledged to "make the darknet great again."
The Dark Web/Net is a part of the internet not accessible by typical means. The most common way to gain entry is via an onion browser such as TOR. Other methods require distinct authorizations or advanced technical know-how.
The Dark Web/Net is part of the broader Deep Web–which simply refers to any part of the internet not indexed by search engines. Using these areas of the internet is believed to offer a higher level of anonymity than typical Web usage.
Selling their products on the marketplace known as Dream, Donald Trump sells and advertises "Presidential Quality Cocaine" for roughly $70 per gram–a fairly standard price. Dream is considered one of the busiest online Dark Web marketplaces.
If we take Donald Trump's vendor contact information at face value, the business operates out of Belgium and ships "worldwide"–except to the United States. And apparently their product is on point.
One satisfied customer wrote: "Very good stealth, and the coke seems to be good."
Aside from a little honest high-jacking of Trump's brand, the voluble president's face has recently begun to appear as the design for high-quality European ecstasy pills. German police seized a 5,000 DJT pills just last week.
[image via screengrab]
Follow Colin Kalmbacher on Twitter: @colinkalmbacher
Have a tip we should know? [email protected]