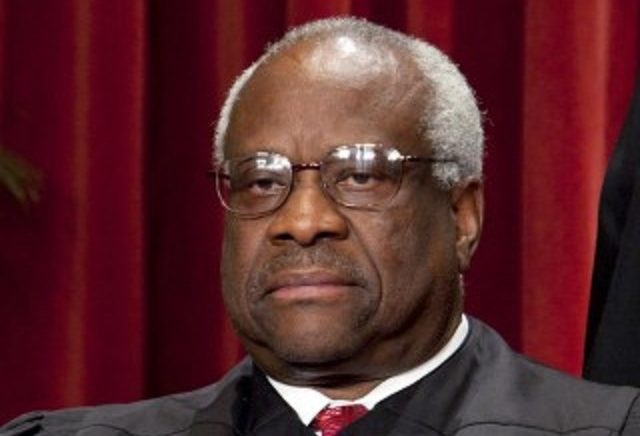 The government may have been "shut down" yesterday, but that didn't stop SCOTUS from delivering a 9-0 decision in District of Columbia v. Wesby — a case about a wild party gone bad. A decade ago, D.C. cops were called to investigate noise complaints in a brick duplex. When police arrived, they found quite the scene at this unfurnished house. Strippers were giving lap dances, booze was flowing, marijuana was burning, and there was some kind of orgy going on in the bedroom. As Justice Clarence Thomas put it upon announcing yesterday's decision, it was "utter Bacchanalia."
When cops arrived, they saw no furniture except for a few padded metal chairs and a bare mattress; as they entered, several people bolted into nearby closets. Recognizing sketchiness when they saw it, the cops started asking questions. Some people said a woman named either "Tasty" or "Peaches" had invited them to a bachelor party, while others said they were attending a birthday party. No bachelor or birthday girl was ever actually found, but officers were able to telephone "Peaches" and chat with her a bit. Peaches' story didn't quite add up. Shocker. When police finally reached the homeowner, he had no knowledge of the party, and the police arrested 21 people for trespassing.
Here's where the story gets weird: the trespassing charges were ultimately dropped, but instead of chalking the whole thing up to a crazy night gone wrong, 15 of the 21 filed suit against the D.C. police. They claimed that there hadn't been any probable cause for their arrests, because the cops had no reason to think the partygoers knew they'd been trespassing. According to these plaintiffs, they had simply assumed they were "guests at a lawful (though bawdy) house party, in an inelegantly furnished home, [when] they partook in the party festivities." Pretty brazen, right? And at the lower court level, these debaucherous-partiers-turned-civil plaintiffs won and the police were ordered to pay them almost a million dollars.
Yesterday, the Supreme Court put an end to the crazy. Justice Thomas penned the opinion that put it all into perspective. Thomas first described what the officers had seen:
"The living room had been converted into a makeshift strip club. Strippers in bras and thongs, with cash stuffed in their garter belts, were giving lap dances. Upstairs, the officers found a group of men with a single, naked woman on a bare mattress — the only bed in the house — along with multiple open condom wrappers and a used condom."
In his written opinion, Thomas explained:
"…the officers found a group of people who claimed to be having a bachelor party with no bachelor, in a near-empty house, with strippers in the living room and sexual activity in the bedroom, and who fled at the first sign of police.

And here, the totality of the circumstances gave the officers plenty of reasons to doubt the partygoers' protestations of innocence."
The million-dollar judgment against the police was reversed, and Justice Thomas took the opportunity to call out the U.S. Court of Appeals for the D.C. Circuit for completely missing the point. He called its analysis siding with partygoers "an excessively technical dissection of the factors supporting probable cause." In assessing probable cause, the lower court should have focused on "the whole picture," and not missed the forest of reasonable suspicion for the lap-dancing trees.
Justice Thomas brought a level of pragmatism to this case that's tough to dispute. When cops come upon a scene that so clearly indicates likely criminal activity, their suspicion isn't – and shouldn't be—negated just because someone is presenting what might be an innocent explanation. Thomas went even a step further in his criticism of the D.C. Circuit, and scolded the lower court for its shaky analysis of the secondary question of immunity. Under the law of "qualified immunity," police officers (and other government employees) are protected from civil liability so long as their conduct fits within the confines of the law. The D.C. Circuit had found that the police in this case weren't entitled to immunity. After SCOTUS' decision that the police did, in fact, have probable cause to arrest the partygoers, the issue of immunity is essentially moot. However, Thomas' opinion—that the D.C. Circuit based its analysis of immunity on arguments with zero case law to support it – offers guidance for future cases in D.C. and elsewhere.
Despite the 9-0 opinion, the Court did disagree a little; Justices Sotomayor and Ginsburg filed concurrences in which they agreed with the outcome, but failed to fully endorse Justice Thomas' reasoning. This week, it's nice to see one branch of our government getting along, especially when the topic at hand is police conduct and sex.
This is an opinion piece. The views expressed in this article are those of just the author.
Elura Nanos - Columnist & Trial Analyst, Law & Crime; CEO Lawyer Up