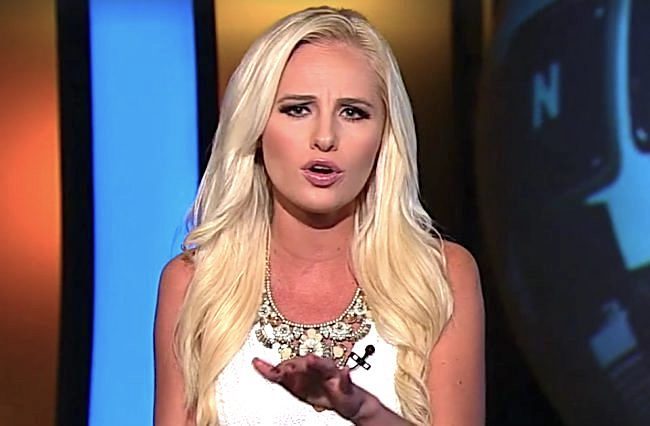 Glenn Beck, and his conservative network, TheBlaze, have filed a counterclaim against firebrand news personality Tomi Lahren after she sued the organization for wrongful termination. In her lawsuit, Lahren claimed she was terminated because of her public pro-choice stance. Beck came back swinging in a 35-page counterclaim obtained by LawNewz.com and filed in Texas court on Monday. The countersuit states that Lahren was never fired from the network. Instead, the company says the network decided to bench her from air after a slew of bad behavior including Lahren's mistreating of staff, and making public appearances without prior approval. In addition, Beck claims it is Lahren who is violating the terms of her employment contract with the network.
The lawsuit states that Lahren's treatment of the floor crew during her shows was "inappropriate and unprofessional" and that she constantly complained about lighting, room temperature, editing, shooting and directing. The complaint also alleges that her "word choice on air" had to be addressed on a consistent basis because she border lined on profane. "Lahren turned down a number of advertisers on TheBlaze for unexplained reasons, limiting any chance for TheBlaze to recoup its investment into her and her show," the paperwork states.
On April 7th, Lahren sued Beck claiming she was fired after making controversial remarks on The View when she told the hosts that, "I can't sit here and be a hypocrite and say I'm for limited government but I think the government should decide what women do with their bodies."
Lahren alleges that HR told her to stay away from her Facebook, social media, and she was prohibited from making public comment. She also claims that fellow employees placed an "X" with yellow caution tape on her office/dressing room door.
In his response, Beck states that she was not fired from the network, and, in fact, she is still an employee who continues to receive benefits and compensation with full access to her social media platforms and company email.
Instead, the counterclaim contends, the company opted to exercise a standard "pay or play" clause which allows them to keep Lahren off air, and continue to pay her. The company claims this decision was made after a culmination of bad behavior by the conservative star.
As for her controversial remarks on The View, the court paperwork states that The Blaze does not take issue with Lahren's comments simply because they expressed a pro-choice view. But, rather, the complaint states, "[d]uring her appearance, she made a statement that not only diverged dramatically from her previous public positions but also effectively called many of TheBlaze's employees, viewers, and readers hypocrites." The complaint alleges this offended The Blaze's audience.
RELATED: Tomi Lahren Sends Message to Glenn Beck on Nightline: 'Let Me Go, Let Me Move On'
The network also objected to what they call Lahren's unauthorized appearance on Nightline in which she blasted The Blaze.
WATCH HERE:
"All of these statements violated Lahren's obligations in the Employment Agreement.  Thus, Lahren not only breached her Employment Agreement, she repeatedly misstated facts in order to increase coverage of her lawsuit," Beck's claim states. 
The Blaze is seeking an order from a judge which would prohibit any public appearances without the Blaze's approval (as per her contract), and prevent her from making disparaging or negative statements against Glenn Beck and The Blaze. The complaint also alleges that Lahren's lawsuit is in violation of an arbitration clause which was part of Lahren's original employment contract.
We are reaching out to attorneys for Lahren for comment, and will update accordingly.
This story is breaking and has been updated as we get more information. 
Have a tip we should know? [email protected]
Rachel Stockman - President / On Air Host