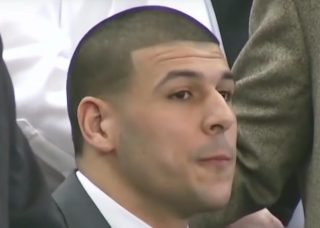 A Massachusetts judge on Friday afternoon ordered the Massachusetts Department of Correction and three senior state officials to preserve evidence related to the suicide of former New England Patriots star Aaron Hernandez.
The order was a response to a bill of discovery filed by the estate of Aaron Hernandez.  Shayanna Jenkins Hernandez, Aaron Hernandez's fiancee, is the court-approved personal representative of the estate.
The bill of discovery, according to court documents, appears to be a precursor to a civil action.
The estate states that it is "contemplating" tort claims against the state.  The estate alleges a jail guard did not make required prison rounds according to a set schedule.  "The unaccounted for seven hours" before Hernandez's hanging are critical, the estate said.  The argument goes that had the rounds been made, the suicide might have been prevented.
The judge ordered that the prison systems and the officials surrounding it preserve virtually everything surrounding the discovery of Aaron Hernandez, including:
Video recordings depicting Hernandez's prison cell starting eight hours before and ending one hour after the discovery of his body.
All records relating to the location of Hernandez in the same time frame.
All Hernandez's property, including any documents written by him.  (Reports indicate suicide notes were found, but their contents have not been released.)
The bed sheets from Hernandez's cell.
Photographs of Hernandez's prison cell.
All autopsy tests and photographs.
All of Hernandez's health records, both medical and mental.
Recordings of all emergency communications surrounding the discovery of Hernandez's body.
All phone calls made by Hernandez starting thirty days before the discovery of his body.
Reports of forensic tests and examinations regarding Hernandez's death.
The interviews of witnesses concerning Hernandez's death.
Investigative reports surrounding the death.
Officials say Hernandez took his own life in prison just days after he was acquitted of seven of the most serious charges he faced related to a Boston double murder.  He was convicted in that case of a minor weapons possession charge.
Hernandez remained in prison on a life sentence regarding a different murder, that of Odin Lloyd, a semi-professional football player whom he knew.
Editor's Note:  This article was updated from its original status as a breaking news piece.  The update includes an expanded list of the evidence the judge ordered the state to preserve and an expanded analysis of the legal documents filed by the Hernandez estate.
Have a tip we should know? [email protected]
Aaron Keller - On Air Host