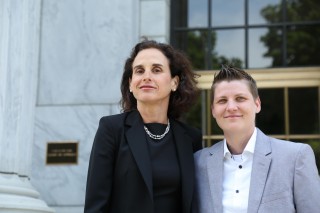 New York State, often thought of for its progressive policies, had long been behind-the-times when it comes to child custody and visitation. Yesterday, after a lengthy legal battle, New York's highest court effectively overruled a quarter-century-old precedent which had defined "parent" too narrowly to conform with the needs of today's families. The decision is as much a victory for children as it is for the LGBT community.
At the heart of the case, In the Matter of Brooke B. v. Elizabeth A., was the meaning of motherhood within the context of New York's many diverse families. Brooke and Elizabeth had been a same-sex couple who became engaged in 2007. At the time, same-sex marriage had not been legalized in New York State; the couple's commitment to each other, while personally significant, did not carry the force of law. Traveling to a state that recognized same-sex marriage wasn't in the couple's budget, so they stayed in New York and lived as a couple. The next year, the couple decided to start a family. Elizabeth was artificially inseminated, became pregnant, and gave birth to a son. Throughout the boy's gestation, birth, and early years, he'd always had two parents: Elizabeth and Brooke. They attended doctor's appointments together, lived together, and planned for the child's birth together. Elizabeth carried the child, Brooke cut the umbilical cord. Elizabeth gave birth, Brooke gave him her last name. These two women were the only two parents the child had ever known. Under the law, however, only Elizabeth could be the boy's mother.
In 2010, the couple ended their relationship and later became estranged. In 2013, Elizabeth refused to allow Brooke continued contact with her son. Brooke sued for custody and visitation, and found that the law did nothing to protect her right to maintain a relationship with the son she'd raised from birth. Without a biological or adoptive connection to the child, Brooke was a legal stranger, and she lacked the right to even pursue a custody or visitation case.
As Brooke continued her painful legal battle to fight for parental rights, courts agreed with her — but still ruled against her. The lower court called Brooke's case "heartbreaking," but it had no choice but to dismiss her lawsuit. Under binding precedent – a case called Matter of Alison D. v. Virginia M., — a non-adoptive, non-biological caretaker could not be a "parent." And when it comes to the law of child custody, those who are not "parents" have almost no rights.
The law's treatment of Brooke under Alison D. was even worse when viewed in the context of the legal standing of other non-parents; grandparents and siblings did have the right to seek custody or visitation of a child. According to the Alison D. court, the legislature must have intended to exclude "de facto parents" like Brooke, because it had granted rights specifically to grandparents and siblings, but had been silent on step-parents, same-sex parents, and other non-traditional caretakers. For decades, Alison D.'s legacy loomed. It's impossible to know how many families were damaged by New York's narrow circumscription of parental rights.
I spoke today with Susan Sommer, National Director of Constitutional Litigation for Lambda Legal, and the lead attorney representing Brooke B., who argued the case before the New York Court of Appeals. Ms. Sommer said the following about New York's treatment of same-sex couples:
"The old precedent was one that did not respect the families formed by same-sex couples. The residual effects of longtime discrimination against same-sex partners didn't end when New York enacted the Marriage Equality Act. So long as the families that had been formed by same-sex couples did not get recognition for something as fundamental as a parent remaining in the life of his or her child after a couple broke up, then this state continued to treat those families as less than equal, full-fledged families. [When it came to same-sex couples], New York disadvantaged their children and disrespected their relationships."
Yesterday, the New York Court of Appeals put an end to the limitations of Alison D. when it ruled that Brooke B. had standing to seek custody and visitation of the child she sought to conceive and raise as a co-parent.   The court's decision did not grant custody or visitation to Brooke B., because, as in all custody and visitation cases, "the ultimate determination of whether those rights shall be granted rests in the sound discretion of the [lower] court, which will determine the best interests of the child."
The decision in Brooke B. is certainly a victory for the LGBT community; same-sex couples will no longer feel the disproportionate impact of the law's emphasis on biological parenthood over hands-on caretaking. But the decision is even more a victory for children and families in that it evolves the emphasis on the psychological importance of the parent-child relationship. By focusing on the psychological needs of children to maintain continued bonds with those who raise them, the New York Court of Appeals has taken a necessary step toward putting children's best interests above all else.
While unquestionably impactful for LGBTs, the Brooke B. case may well have paved the way for future courts to expand the definition of "parent" in ways that affect all people caring for children. The Brooke B. decision rested in part on the couple's pre-conception decision to procreate – but was clear that such a factor wasn't the only factor that could determine parentage:
"In as much as the conception test applies here, we do not opine on the proper test, if any, to be applied in situations in which a couple has not entered into a pre-conception agreement… Whether a partner without such an agreement can establish standing and if so, what factors a petitioner must establish to achieve standing based on equitable estoppel is a matter left for another day, upon a different record." Ms. Sommer's take on the limits of the decision:"I believe that what the Court has done is wipe the slate clean in New York, and open the door for lower courts to entertain petitions to establish parenting rights that might include circumstances that don't necessarily fit into the pre-conception agreement test."
Ms. Sommer further explained that of course, yesterday's decision allows for a definition of parenthood that is "not boundless," but one that is "looking at the child's best interests in what is an established or intended parent-child relationship."
Family law is a special practice area. In the law governing children and families, there should be neither loopholes, nor technicalities. Decisions are not meant to be influenced by politics or policy. Family Court judges have the difficult, but incredibly important responsibility of using law to provide every child with the best outcome possible under the individual circumstances. For over 25 years, New York law has failed to reflect truths so many of us hold dear: the people who raise a child are the center of that child's world. Parenthood is a function of behavior, not one of biology. The bond between a parent and a child is broken at the peril of permanently damaging both people. And while New York's many same-sex couples will rightfully celebrate yesterday's decision as another step in achieving gender equality, so too will the step-parents, aunts, uncles, and cousins who have raised children that, until now, weren't "theirs."
[Photo credit: Leslie Von Pless/Lambda Legal]
This is an opinion piece. The views expressed in this article are those of just the author.
Elura Nanos - Columnist & Trial Analyst, Law & Crime; CEO Lawyer Up