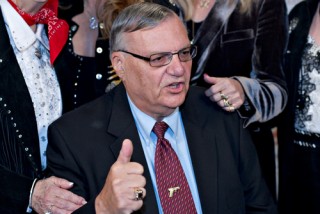 President-elect President Donald Trump may soon receive his first presidential pardon request from an incendiary Arizona sheriff facing criminal charges for targeting Latinos for illegal arrests and deportations in violation of a court order.
No pardon application has been submitted yet by Trump loyalist and outgoing Maricopa County Sheriff Joe Arpaio, who says he is innocent of the federal charge of contempt of court, but Arpaio succeeded in postponing his upcoming Phoenix trial, which was set to begin Dec. 6, until April 4, 2017. The sheriff's trial is now well after President-elect Trump takes office on Jan. 20,  giving him plenty of time to submit a possible pardon request.
Arpaio's criminal defense attorney, Melvin McDonald of Jones, Skelton & Hochuli in Phoenix, said "I don't want to comment on that point" when asked if  he plans to submit a pardon application to President-elect Trump. McDonald said he is looking at all options for his client.
Paul K. Charlton, U.S. Attorney for Arizona under President George W. Bush, thinks the 84-year-old Arpaio is likely to seek a pardon and the new president would be tempted to grant it.
"If President-elect Trump wants to, he could pardon Arpaio for the charge he currently faces and any other charges he faces for crimes that he may have committed," Charlton said in an interview with LawNewz.com.
"I guess politically you don't have to look very deeply at this to see how President-elect Trump could make a large number of his constituents happy if he were to grant Joe Arpaio this pardon," he said.
The president can pardon a person even if that person has not yet been charged with a crime or not yet gone to trial or been convicted, as in Arpaio's case, Charlton said.
"Perhaps the most widely known example of the president pardoning an individual who had never been charged was the pardon granted to President Nixon for all [potential] crimes granted by President Ford," Charlton said.
Federal prosecutors have criminally charged the sheriff with intentionally violating a federal court order mandating his department to stop unlawfully arresting Latinos without any criminal charges solely to send them to federal immigration authorities for deportation.
Arpaio was reportedly under consideration to lead the Department of Homeland Security in the Trump Administration.   During his 24 years in office, Arpaio gained national notoriety for his harsh anti-immigrant rhetoric and use of local law enforcement to target Latinos for deportations.
Candidate Trump adopted Arpaio's anti-immigration rhetoric — calling Mexican immigrants "rapists" and criminal on the first day of his campaign and Arpaio was an early Trump supporter,  personally  introducing Trump in all his Arizona presidential campaign appearances.
Oddly enough, Trump won Arizona's electoral votes while Arpaio lost his bid for a seventh term despite being a staunch Trump supporter.
Some political analysts believe Arizona's fiscally conservative Republicans grew weary of the $60-million taxpayer price tag for defending Arpaio and his department from a nine-year-old civil rights racial profiling case filed by the American Civil Liberties Union and other groups.
Arpaio was sued for allegedly directing unlawful racial profiling and deportations of Latinos in 2007, when the ACLU and others filed a class action lawsuit against Arpaio and his department in federal court in Melendres v. Arpaio.
The ACLU lawsuit, filed in Phoenix, claimed that the sheriff's department targeted Latinos — including some U.S. citizens and a Mexican tourist legally visiting the U.S. — for traffic stops and arrests without probable cause.
The lawsuit alleged that Arpaio's arrests violated the Fourth Amendment protection against unreasonable searches and seizures, the Fourteenth Amendment mandate of equal application of the law to all races , the Arizona constitutional protection against unreasonable searches and seizures, and a federal civil rights law barring state and local agencies receiving federal funds from engaging in racial discrimination.
U.S. District Judge G. Murray Snow in Phoenix issued a preliminary injunction in 2011 barring Arpaio from arresting individuals without any probable cause and for the purpose of turning them over to federal immigration authorities for deportation. In 2013, Judge Snow held a trial and issued a permanent injunction barring Arpaio from using race or Latino ancestry as a grounds to making a traffic stop or arresting Latinos for immigration-related crimes without any other evidence except their race.
But instead of obeying the federal court injunction, Arpaio and his top deputies continued to target Latinos for arrest and deportation without arresting them for any crime, according to Judge Snow's 162-page order finding Arpaio in civil contempt of court on May 13, 2016. 
Judge Snow found that "the Defendants have engaged in multiple acts of misconduct, dishonesty, and bad faith with respect to the Plaintiff class and the protection of its rights," and have "demonstrated a persistent disregard for the orders of the Court, as well as an intention to violate and manipulate the laws and policies regulating their conduct…."
Arpaio admitted that he violated the court orders, but did so unintentionally.
The Department of Justice Public Integrity Unit in Washington D.C. — which was created after President Nixon's Watergate scandal to avoid political influence being exerted on federal prosecutors — was assigned to review the civil contempt case for possible criminal prosecution.
The federal prosecutors did not buy Arpaio's claim of mistake and agreed to prosecute the case as an intentional, and therefore criminal, violation of Judge Snow's injunction.
Federal prosecutors alleged one charge of criminal contempt of court against Arpaio. The criminal charge was filed by U.S. District Judge Susan K. Judge Bolton on Oct. 25.
Prosecutors alleged in the Order to Show Case that Arpaio "continued to stop and detain persons based on factors including their race … and frequently arrested and delivered such persons to [federal immigration officials] when there were no state charges to bring against them" in violation of the court order banning such arrests.
Sheriff Arpaio is also charged with purposely and publicly violating the court order for purely political gain: to gain "notoriety" and "campaign donations he received because of his immigration enforcement activity."
Prosecutors also allege that the suicide of a key witness in the civil rights case, Deputy Ramon "Charley" Armendariz, revealed significant allegations of misconduct by Arpaio's command staff. Yet, the prosecutors allege, "the Sheriff was not investigating the allegations of misconduct in good faith — especially those that pertained to him or to members of his command staff."
Arpaio faces a maximum of six months in jail if convicted of criminal contempt of court.
Have a tip we should know? [email protected]