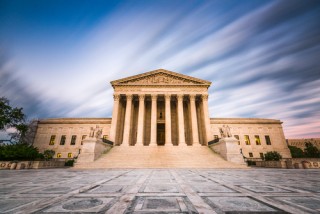 As the Supreme Court heads into 2017 with only eight members, the only thing really certain is that all eyes will be on the high court as it begins its new term. High-profile, politically-charged litigation, such as the transgender bathroom case, and the gerrymandering cases, are bound to continue receiving tons of media coverage. And of course, as Justice Scalia's absence continues to affect the Court, any cases involving immigration, reproductive freedom, and the death penalty will make headlines. However, the Court will also deal with quite a few other cases that aren't nearly as headline-inspiring, but which have potential to affect our daily lives just the same. The following are seven easily-overlooked ways upcoming SCOTUS decisions may affect you in 2017 and beyond. 
# 1 Debt-collectors may be permitted to hound you longer than you thought. (Midland Funding, LLC v. Johnson)
A case from the 11th Circuit requires the Court to rule on whether it's legal for a professional debt-collector to file a claim against a debtor long after the claim was barred by the statute of limitations. Here's the backstory: back in 2003, Aleida Johnson owed a little over $1,800 to Fingerhut Credit Advantage. When she didn't pay up, Midland Funding purchased the unpaid debt from Fingerhut. In 2014, Ms. Johnson filed for bankruptcy, and when Midland caught wind of her filing, it made a claim against her for that $1,800. The glitch? This all happened in Alabama, where the statute of limitations for collecting a debt is six years – not the eleven that had lapsed. Collection of debts is governed by the Fair Debt Collection Practices Act ("FDCPA"), which prohibits collectors from using shady practices while attempting to collect debts. Ms. Johnson sued, claiming that Midland's trying to collect a debt five years after the deadline is just the kind of shadiness that violates the FDCPA.
Prediction: For Midland to win, the Court would have to find that the Bankruptcy Code and the FDCPA conflict in such as way as to make what Midland did fair. Or in other words, it would have to agree with the Alabama District Court, which seeems unlikely. SCOTUS is more likely to say that the Bankruptcy Code and the FDCPA can live out their years together in perfect harmony, and that debt collectors should look up the term "statutes of limitation" before harassing bankrupt women.
# 2 You might be denied a trademark if what you're seeking to protect is deemed "scandalous" or "immoral" by 2017 standards. (Lee v. Tam)
Simon Siao Tam, the founder of a Chinatown rock band called "The Slants" tried to register the band's name with the U.S. Patent and Trademark Office. The USPTO refused on the grounds that the band's name was disparaging toward people of Asian descent, and cited the Lanham Act's prohibition on trademarking "scandalous, immoral, or disparaging marks."  The rocker argues that the prohibition is illegally interfering with his First Amendment rights. The Federal Circuit Court (that's the circuit which handles all the purely federal claims, such as patent, trademark, veterans' rights, etc.) sided with Tam, and held that part of the Lanham Act to be unconstitutional. The USPTO now brings this appeal, hoping that the 2017 Court will applaud its refusal to protect an offensive name.
Prediction: I think this case is slanting toward Mr. Tam. Naming your band sounds a lot like "free speech" to me, and that's basically the point of First Amendment. Still, the case could go either way. The USPTO has good reason to withhold its protection from names and service marks that are hateful, and with each passing year, society usually becomes less tolerant of derogatory speech. I'd be more inclined to predict a USPTO win if the underlying facts here pointed to a more offensive and less self-deprecating use of language, but we'll just have to wait and see if SCOTUS thinks Tam's band is following in the tradition of Queen or if it's more like LMFAO. 
#3 Your school district might have to reach a little deeper into its pockets when it comes to providing services for disabled children. (Endrew F. v. Douglas County School District)
Drew F. is a fifth-grader with autism. He attended public school until the fourth grade, but when it came time to plan for his fifth-grade year, his parents weren't satisfied with the services offered to Drew by his elementary school. They enrolled Drew in a private school that specializes in autism education, and then sought tuition reimbursement from their school district. Under the federal Disabilities Education Act, school districts are required to make a "free appropriate public education" available to all children with disabilities. That means if the district can't provide necessary services itself, it must fund a private alternative. Drew's school district claims it did enough for him. His parents say not so much.
Prediction: The Court is going to boot the case back down to a lower court. School districts and their budgets are touchy things. Touchier still is the entire subject of autism. SCOTUS is especially skilled at crafting "decisions" that don't really decide anything when the topic at hand is too hot to touch.
#4 You might have a better chance of holding law enforcement accountable if you are wrongly prosecuted. (Manuel v. City of Joliet)
Elijah Manuel was illegally arrested for dealing drugs. And when I say "illegally arrested," I mean that police presented all sorts of false evidence before a grand jury, including fake drug tests that made it appear as though pills found on Manuel were ecstasy (they weren't). Manuel was detained for over a month before the assistant state's attorney dismissed the charges against him. His first order of business after his release was to sue the city of Joliet, Illinois for malicious prosecution. The only problem is that Manuel's malicious prosecution claim was made as a Fourth Amendment claim in federal court, and that's not usually how it's done (the Fifth Amendment is the more typical basis for one of these claims). The question of which Amendment works best is one about which both legal scholars and the Circuits are split– which is precisely why SCOTUS granted certiorari here.
Prediction: Manuel is going to win. Even though nothing about the issue SCOTUS will be considering relates directly to police misconduct or civil rights, I suspect the Court granted cert for the purpose of telling Illinois where to stick its legal arguments. Ten of the Circuit Courts permit claims just like Manuel's, and I think SCOTUS is going to take the opportunity to tell the Seventh Circuit to step into line.
#5 Your favorite retailers might be able to charge extras when you use credit cards. (Expressions Hair Design v. Schneiderman)
New York State law prohibits merchants from passing along a surcharge to consumers paying with credit cards. What merchants can do, though, is offer customers a discount for paying in cash. The whole discount-but-not-surcharge thing wasn't working for a bunch of businesses; they banded together and filed a 2013 lawsuit alleging that the New York law violated their right to freedom of speech. Weird as it sounds, this might not be a total stretch, because allowing merchants to charge what they want to charge has been protected before under the First Amendment. The retailers also claim that the law is too vague, which sounds like a winning argument to me, as this entire issue rests on the semantic difference between a "credit card surcharge" and a "cash discount."
Prediction: This one is going to be decided on any grounds SCOTUS can find other than the First Amendment. SCOTUS isn't going to continue further down the pricing-is-speech road. Instead, it'll come up with some alternate criticism for the New York statute—like that it's poorly drafted or too vague. That's a much easier way to make the New York merchants happy without getting too creative with free speech.
#6 You might see more service dogs in schools. (Fry v. Napoleon Community Schools)
E.F. is a girl with cerebral palsy who sued when her school district refused to allow her to bring her service dog to school. The school district provided E.F. with a human aide, but (as is all too often the case), the dog was preferable. E.F.'s legal battle rests on something of a procedural battle between the Americans with Disabilities Act and the Disabilities Education Act. The school district argues that E.F. wasn't entitled to even bring an ADA claim until she'd exhausted her administrative remedies under IDEA, and E.F.'s claim is that she had every right to proceed directly to court and claim her rights under the ADA.
Prediction: Tough one. It's not clear whether the Court has a swing vote when it comes to dog issues. Something tells me, though, that the Court will find some way to side with a disabled girl and her service dog over a school district that's being difficult
#7 You may want to look twice at that sales –tax box when you order anything online. (American Business USA Corp. v. Florida Department of Revenue)
SCOTUS will decide whether to grant certiorari in this case in which the plaintiffs argue that it's unfair for a state to impose sales tax on online sales when the products bought and sold never even enter the state doing the taxing.   The case originated with a claim by a consumer against the State of Florida when it taxed a transaction delivering flowers. The sale was made through a Florida-based website, but had no other connection to the State of Florida. Legally, only one state can impose sales tax on any transaction; a ruling declaring the right of one state to impose tax on an essentially out-of-state transaction is one that goes to the heart of states' sovereignty.   Should SCOTUS take up the case, it could have significant implications for e-commerce that go far beyond flowers.
Prediction: The court is going to deny cert. The justices just did all their holiday shopping via Amazon Prime, and they're not ready to start issuing decisions that throw wrenches into millions of online sales.
This is an opinion piece. The views expressed in this article are those of just the author.
Elura Nanos - CEO, Lawyer Up; Columnist & Host, Law & Crime