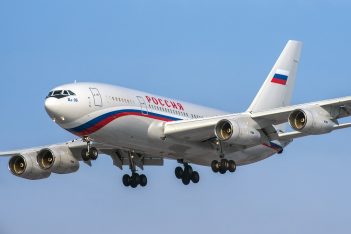 A Russian plane landed at Dulles International Airport in Virginia, just outside Washington, D.C. on Saturday to pick up the 35 Russian "diplomats" expelled by President Obama in recent days.  The Obama administration has alleged the expelled Russians "meddled" in the United States presidential election last month.
Russian airlift: Moscow sends plane to ferry its 35 expelled diplomats and families out of U.S. https://t.co/LbFG8d4th4 pic.twitter.com/O5OBLnk3cG

— Daily Mail US (@DailyMail) December 30, 2016
According to the Daily Mail, the plane is an Ilyushin Il-96 and that is part of the fleet of aircraft often used by Russian President Vladimir Putin and some of the most senior ministers and politicians in the Russian government.
Spotted by @CBSNews at @Dulles_Airport, the Russian plane that will return 35 Russian diplomats deemed 'persona non grata' pic.twitter.com/etFoSE1u1z

— Steve Dorsey (@steve_dorsey) December 31, 2016
The actual plane was spotted by CBS News at Dulles Airport on Saturday as it was loaded full of items , believed to belong to the diplomats and their families.  Additionally, FBI Agents were seen removing items out of several large estates allegedly connected to the expelled Russians after the State Department announced the closure of the buildings late last week.
The flight tracking company Plane Finder tweeted early New Year's Day morning that the flight carrying the expelled Russians had officially departed Dulles Airport just after 9:00 a.m. local time and it is now traveling up the East Coast toward over Bridgeport, CT as of the time this article was published.
RSD88 leaving Dulles with the expelled Russian diplomats. https://t.co/aJTGZhlu5p pic.twitter.com/jk0wxF1HpX

— Plane Finder (@planefinder) January 1, 2017
[image via Andrey Khachatryan/Shutterstock]
Have a tip we should know? [email protected]