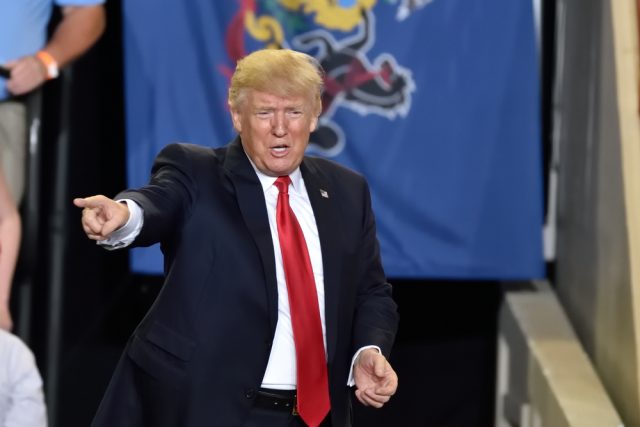 President Donald Trump now claims, by way of his attorneys, that protesters at one of his 2016 campaign rallies violated his rights by protesting.
Those protesters were later allegedly battered by Trump supporters after Trump shrieked for their removal. The protesters are currently suing Trump for incitement to riot.
In legal filings made this week, Trump's lawyers say he couldn't have violated the protesters' rights by calling for his supporters to assault and remove them from the venue–because those protesters violated Trump's rights first. One motion reads, in relevant part:
In this case, Plaintiffs interfered with the Trump Campaign's freedom to 'choose the content of (its) own message. Thus, by interjecting this anti-Trump speech in the middle of a pro-Trump rally, they were obviously transforming the message that Mr. Trump and the Campaign wished the event to convey.
The motion was filed as part of a dismissal request made Trump's legal team in response to a lawsuit brought by multiple protesters who were violently removed from a Trump campaign rally in Louisville, Kentucky in March 2016. At that campaign rally, then-candidate Trump screamed: "Get 'em out of here!"
A federal judge allowed the protesters' lawsuit to proceed earlier this year after Trump's stable of attorneys unsuccessfully argued their client was protected from liability by the First Amendment.
In his April order allowing the suit, Judge David Hale wrote "It is plausible that Trump's direction to 'get 'em out of here' advocated the use of force. 'Get 'em out of here' is stated in the imperative; it was an order, an instruction, a command."
Now, after their initial failure at reigning in the protesters' claims, Trump's attorneys are trying an even more novel tactic: arguing that two perceived wrongs can, in this case, make a right. The motion defends Trump's incendiary order-instruction-command as necessary. It reads:
Mr. Trump had every right to call for the removal of the disruptors. Any contrary rule would destroy the right of political campaigns to express their messages at rallies without being sabotaged by intruders.
This argument relies on no known legal doctrine.
[image via shutterstock.com/Evan El-Amin]
Have a tip we should know? [email protected]