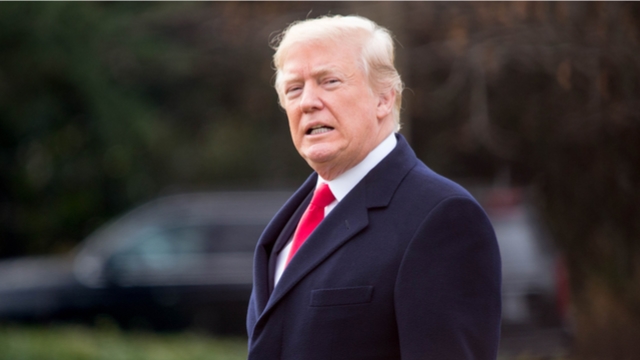 Among the nuggets which came from the recently-released Senate Judiciary Committee interview of the head of research firm Fusion GPS is this:  the firm was apparently baffled by President Donald Trump's finances. Glenn Simpson, who's in charge at Fusion GPS, seems to sit in the camp of those who think Trump overstates his financial status, according to the 312-page Judiciary Committee transcript. Here's how Simpson said his investigation into Trump's finances started (be forewarned, however, that this is a really bad run-on sentence):
We spent a lot of time trying to figure out whether he's really as rich as he says he is because that was the subject of a libel case that he filed against a journalist named Tim O'Brien for which there was quite a lot of discovery and litigation filings detailing O'Brien's allegation that he was worth, you know, maybe a fifth to a third of what he claims and Trump's angry retort that he was worth far more than that.
Fusion GPS was reportedly first hired by Republican operatives, but later began providing research to Democrats after it became clear Trump would actually clinch the Republican nomination. Simpson was adamant about protecting the details of his clients during the committee's interview, stated several times that he has worked with members of both parties over the years, and was adamant that the investigation was open-ended, unbiased, and focused only on chasing information wherever it led him. The investigation caused Fusion GPS to examine Trump's golf courses, including "whether he had to borrow money to buy them, whether they were encumbered with debt, how much money they brought in, what valuations he put on them, and property tax filings." Fusion GPS also looked at Trump's other businesses, debts, bankruptcies, and other tax bills.
"[H]ow could somebody go through so many bankruptcies, you know, and still have a billion dollars in personal assets" was one question Simpson said Fusion GPS was trying to answer. The tax bills, meanwhile, provideed guidance for backwards-math equations which can reveal how much someone is — or claims to be — worth. Simpson noted that while he could examine government bills, which are part of the public record, and possibly some estate taxes, he did not have access to Trump's personal tax returns.
One of the things we found out was that, you know, when it comes to paying taxes, Donald Trump claims to not have much stuff. At least the Trump organization. So they would make filings with various state and local authorities saying that their buildings weren't worth much.
Later, this exchange occurred:
QUESTION:  Did you reach any conclusions based on your review of his tax bills? I think you mentioned that in connection with trying to assess either financial connections or his financial standing. Did you reach any conclusions with regard to either of those?

SIMPSON:  Yes. I concluded — we concluded that his statements about what individual properties were worth were greatly exaggerated and at odds with the information that he'd supplied, you know, in legal filings with tax authorities and other records, corporate records.
The Committee asked Simpson about his findings as to Trump's golf courses:
SIMPSON:  A number of them don't make any money. His valuations of the properties are questionable. I guess those would be the main findings.
As to the lawsuit Trump filed against reporter and book author Tim O'Brien over how much Trump was worth, Simpson made this interesting observation:  Trump "didn't prevail in his attempts to prove that he was a billionaire." Asked whether he was hired to dig up dirt, not "positive information" about Trump, Simpson defended his research goals:
To the contrary. I think when you're doing research on any subject you're trying to figure out what the truth is. So if Donald Trump's got a good business record and he's really worth billions of dollars, that's important information. In fact, you shouldn't be feeding reporters stories about how Donald Trump is not worth billions of dollars if he's worth billions of dollars. So, you know, I think the connotation of negativity, I get, you know, where you're coming from, but, in fact, you're just trying to figure out what's true.
Simpson told the Committee he did not recall coming across evidence that Trump himself engaged in any illegal conduct.
[Image via Michael Candelori/Shutterstock.]
Have a tip we should know? [email protected]
Aaron Keller - Deputy Editor-in-Chief