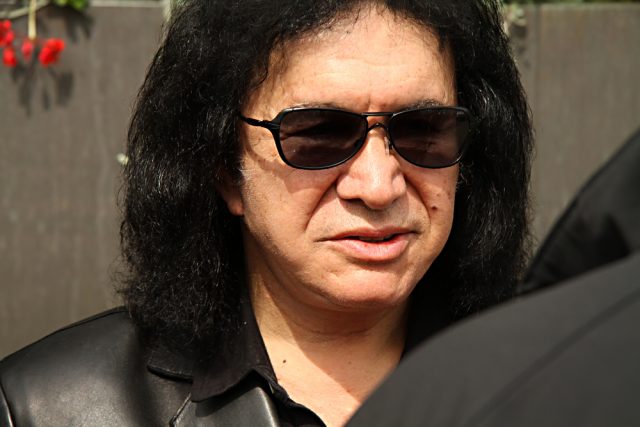 Gene Simmons, bassist and frontman for the aging rock band Kiss, has been accused of sexual assault, making unwanted sexual advances, and groping a female reporter, according to a lawsuit.
Filed Friday in Los Angeles Superior Court by a plaintiff identified as "Jane Doe," the lawsuit alleges various causes of action against Simmons, including: sexual battery, common law battery, gender violence, gender discrimination, and assault, amongst others.
According to the lawsuit, the reporter, Doe, arrived at Simmons' music-themed restaurant, Rock & Brews on November 1 of this year in order to conduct an interview with Simmons and his bandmate, Paul Stanley. The suit notes:
Soon after the interview commenced, Simmons reached over and grabbed Doe's hand, and forcefully, placed it on his knee and held it on his knee. Immediately, Doe, feeling that this was an unwanted sexual advance, nervously yet immediately, removed her hand from his knee. Despite feeling extremely uncomfortable, Doe continued the interview. Simmons however, continued his unwanted, unwarranted sexual advances by reaching for Doe's hand again. Doe, however, was able to push his hand away with her elbow before he touched her hand.
Doe's suit continues, "Throughout the interview, Simmons turned standard interview questions into sexual innuendos, which made Doe extremely uncomfortable. Simmons then made another attempt to grab Doe's hand and was successful in grabbing her hand. Upon feeling her hand, Simmons then commented with a cooing sound, that she "must use lotion" and then proceeded with another sexual innuendo directed at Doe. Doe was visibly powerless, as demonstrated by moving her hands in a nervous fashion."
Next, the suit alleges a "bizarre" turn of events which led to the interview being promptly–finally–shelved. It reads, "Shortly after, Simmons abruptly reached over to Doe and forcibly flicked/struck Doe in the middle of her throat. Upon observing the impact of the hit and the reaction of shock by the co-host, Simmons provided and incoherent explanation for flicking/striking her throat. Following this bizarre behavior, Doe did her best to promptly terminate the interview, but Simmons continued to demonstrate his known power-raged persona by wanting to continue the interview."
The suit also alleges an incident of groping performed by Simmons as the meeting ended. It notes:
The interview concluded, earlier than expected du to Simmons' sexually-charged and physical actions. Following the interview, Doe agreed to take customary promotional pictures. As they were beginning to pose for a group picture, Simmons reached towards Doe's buttocks and touched it. Again, Doe kept her composure and discreetly moved away. They took the pictures, but Doe declined the invitation to "stay around."
In an interview with the San Bernardino Sun, the plaintiff's attorney, Willie W. Williams, said: "My client is embarrassed and humiliated by the incident with Mr. Simmons. She filed suit because she wanted to make a strong statement that this behavior is unacceptable and she wants to see an end to this type of behavior."
Law&Crime reached out to Simmons but a response was not forthcoming at the time of publication.
[image via shutterstock.com/Oscar Schnell]
Follow Colin Kalmbacher on Twitter: @colinkalmbacher
Have a tip we should know? [email protected]