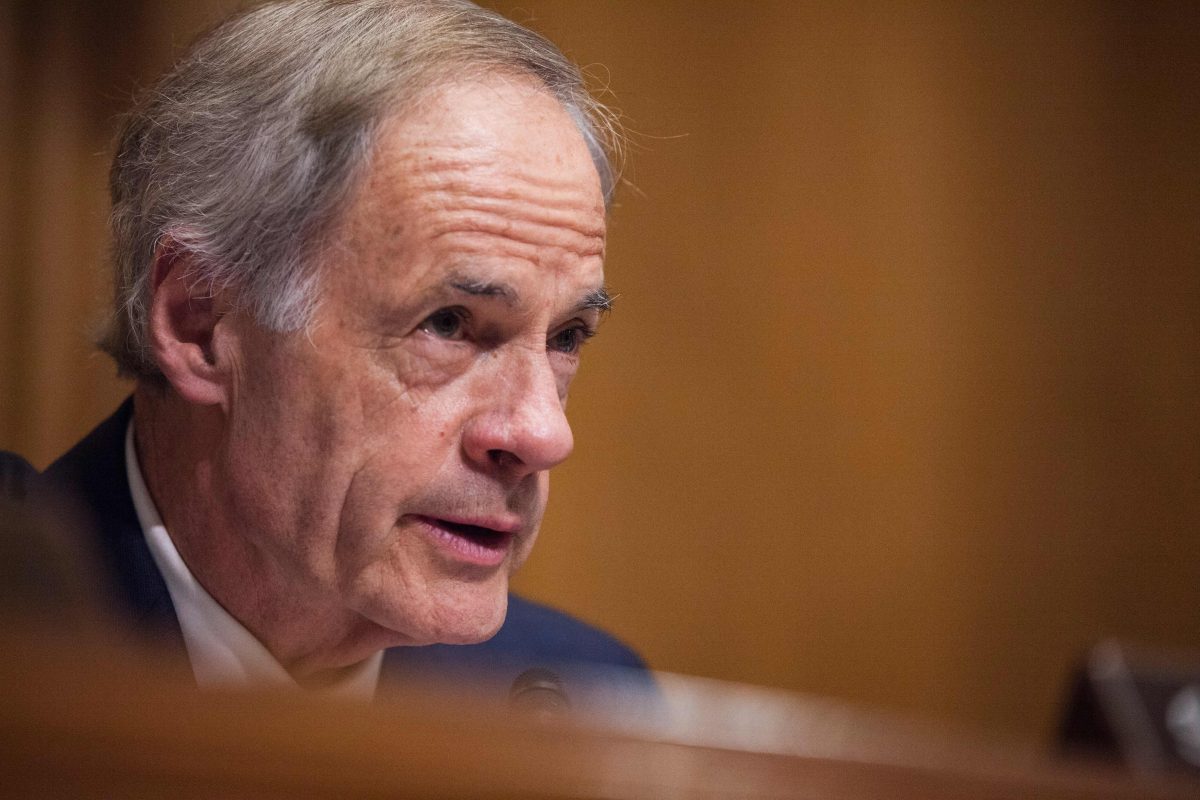 Senator Tom Carper (D-DE) admitted to hitting his then-wife so hard that it left her with a black eye.
A little-noticed episode from Carper's past is now being re-litigated in light of recent news cycles dealing with domestic abuse committed by powerful men working at the highest levels of government in the nation's capital. In a 1998 interview, Carper said:
Did I slap my wife 20 years ago? Yes. Do I regret it? Yes. Would I do it again? No. I slapped Diane one time. It was a stupid thing to do and I…regret it now. It caused some discoloration of her left eye and some puffiness.
Washington, D.C. was rocked last week by the resignations of two White House staffers over domestic abuse allegations. Rob Porter, former White House Staff Secretary for President Donald Trump, was forced to resign after two of his ex-wives accused him of various forms of abuse. Porter had previously served as an aide to GOP Senators Rob Portman (R-OH) and Mike Lee (R-UT). Later, David Sorensen, a member of President Trump's speechwriting team, resigned over similar allegations.
In the aftermath of those resignations–and the media onslaught surrounding and prodding them–many onlookers wondered why Carper, a long-serving Democrat with much more power than both White House aides combined, apparently wasn't being held to the same standard.
Noted on Friday by conservative outlet The Washington Free Beacon, Carper's history of spousal abuse has been the subject of media coverage before, but the Delaware centrist has largely escaped the ire of voters over his admitted history of violence.
Allegations of domestic abuse have dogged Carper since his first run for Congress in 1982. Delaware Democrats didn't much care for those accusations and Carper easily won his race–largely based on the perception that the story about Carper's wife-beating was untrue. At the time, Carper referred to the allegations as "totally false" and "without basis in fact."
Later recanting his innocence, in 1998 Carper finally admitted to slapping his now-deceased first wife during a "heated argument" in 1980. Carper eventually sought a promotion and served as the governor of Delaware for two terms before becoming a U.S. senator in 2001.
Law&Crime reached out to Senator Carper's office for comment on this story, but no response was forthcoming at the time of publication.
[image via ZACH GIBSON/AFP/Getty Images]
Follow Colin Kalmbacher on Twitter: @colinkalmbacher
Have a tip we should know? [email protected]