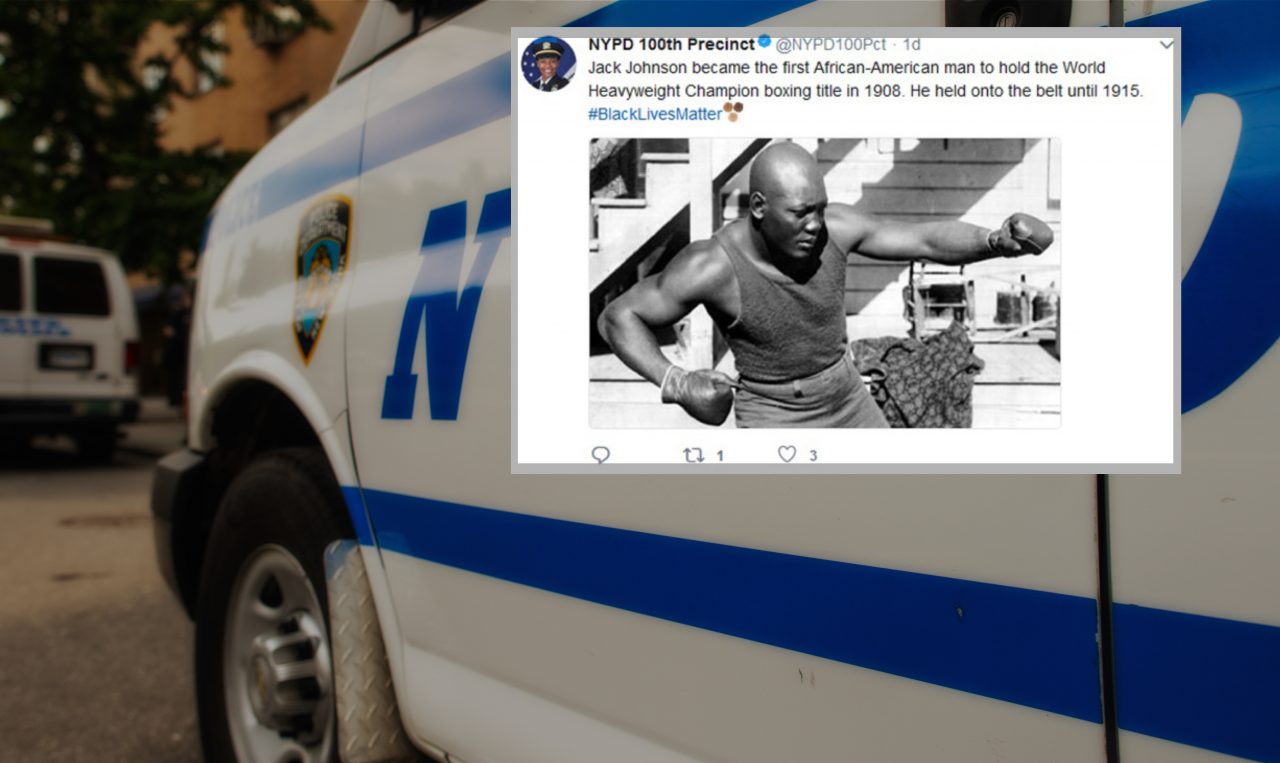 A New York City Police Department ("NYPD") precinct commander is in hot water after a controversial civil rights phrase appeared on the precinct's Twitter feed.
The adverse reaction occurred after the NYPD's 100th Precinct in Queens posted an update on their official Twitter account in an attempt to take part in Black History Month.
That tweet referenced boxer Jack Johnson–who became the first African American world heavyweight boxing champion in 1908–at the height of Jim Crow.
The offending tweet reads as follows:
Jack Johnson became the first African American man to hold the World Heavyweight Champion boxing title in 1908. #Blacklivesmatter
New York City cops were not amused by the post. The backlash was quick and fierce.
One police source complained to the New York Post, "How can a precinct commander lead people when she aligns herself with a group that is known to hate law enforcement and wishes police officers dead?She's making a political statement on a job Web site. Let's see what the police commissioner does now. If they don't take action, then I guess the police commissioner and the mayor condone this."
The tweet was later deleted and replaced with the same message and the hashtag: #BlackHistoryMonth.
The bio for the account in question reads, "Deputy Inspector Janice Holmes, Commanding Officer. The official Twitter of the 100th Precinct." Holmes' headshot is also the account's avatar. But, according to Holmes, she wasn't the one who posted the tweet in question. It was allegedly posted by an underling and Holmes reportedly ordered the original tweet to be deleted-and-replaced.
An NYPD spokesperson said that officials are "currently reviewing the Twitter account of the 100th Precinct." The NYPD admitted, however, that nothing was likely to come of that investigation, noting, "There is no indication that any discipline will be given out."
[image via screengrab/Twitter/shutterstock]
Follow Colin Kalmbacher on Twitter: @colinkalmbacher
Have a tip we should know? [email protected]