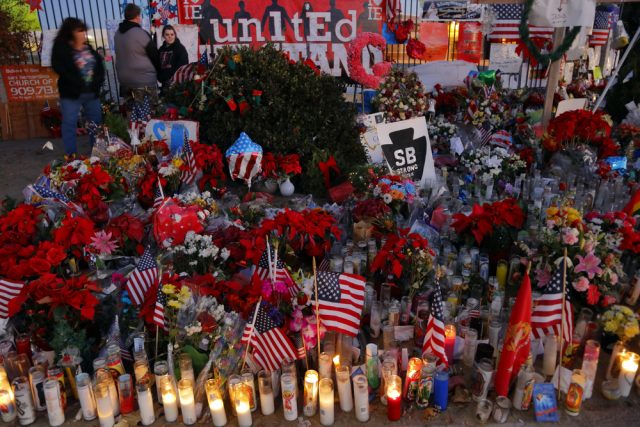 RIVERSIDE, Calif. (AP) — A California man is expected to plead guilty Thursday to providing the high-powered rifles used to kill 14 people in the San Bernardino terror attack.
Enrique Marquez Jr. is due to appear in federal court in Riverside after signing a plea agreement with prosecutors.
Marquez, 25, of Riverside is the only person criminally charged in the December 2015 attack that also left 22 people wounded at a meeting of San Bernardino County employees.
Husband-and-wife assailants Syed Rizwan Farook and Tashfeen Malik were killed in a gunfight with authorities later that day.
Marquez is charged with providing the rifles used in the rampage and plotting mass killings with Farook several years earlier that were never carried out.
Prosecutors said there is no evidence Marquez participated in the San Bernardino massacre or had advance knowledge of it.
Under the plea deal, Marquez could face up to 25 years in prison. A message seeking comment was left for his attorney, Young Kim.
Prosecutors said Marquez acknowledged being a "straw buyer" when he purchased two AR-15 rifles from a sporting goods store that were used in Farook's attack on the meeting of his work colleagues.
Prosecutors have said Marquez agreed to buy the weapons because the attackers feared Farook's Middle Eastern appearance might arouse suspicion.
Marquez also acknowledged plotting with Farook in 2011 and 2012 to massacre college students and gun down motorists on a gridlocked Southern California freeway, though those attacks never occurred.
Marquez said he backed out of the plot after four men in the area were arrested on terrorism charges in late 2012, the FBI has said in court documents.
Marquez and Farook met in 2005 after Marquez moved next door to Farook's family in Riverside, about 55 miles east of Los Angeles.
Farook began educating his new friend about his Muslim faith and Marquez converted in 2007.
The FBI said the two began discussing extremist views shortly thereafter. By late 2011, Marquez spent time at Farook's home reading magazines published by al-Qaida and studying radical material online, federal officials said.
[image via Joseph Sohm, Shutterstock]
Have a tip we should know? [email protected]