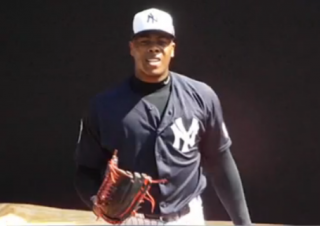 Aroldis Chapman, the newly acquired closer for the New York Yankees, will start the 2016 season off the field. The relief pitcher was handed a 30-game suspension without pay from Major League Baseball on Tuesday, as punishment for an alleged domestic violence incident in October, ESPN reports.
MLB Commissioner Rob Manfred made the decision under the league's domestic violence policy, which was adopted in August. Chapman announced he will not appeal the decision, although he maintains he did not harm is girlfriend. "I want to be clear, I did not in any way harm my girlfriend that evening," Chapman said in a statement, according to ESPN. "However, I should have exercised better judgment with respect to certain actions, and for that I am sorry."
Chapman allegedly pushed and choked his girlfriend and fired a weapon during a dispute. He acknowledged that there was a fight, denied placing his hands on the woman, but admitted to firing a handgun eight times into a wall and window. Prosecutors decided not to pursue the case against Chapman, citing insufficient evidence, according to MLB.com.
Chapman said in his statement that he decided not to appeal in order to remove distractions from his team and family. The suspension will take effect when the season begins, so Chapman will continue to participate in Spring Training. He will lose roughly $1.7 million in salary from the missed time.
[h/t ESPN, screengrab via MLB.com]
Have a tip we should know? [email protected]