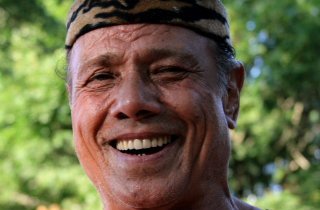 The latest of a series of concussion-themed lawsuits was filed against World Wrestling Entertainment on Monday in Connecticut District Court. Officially titled Laurinaitis et al v. World Wrestling Entertainment, Inc. et al, the 214 page complaint accuses Vince McMcMahon's sports entertainment empire of addressing head injuries  "in any medically competent or meaningful manner" as well as hiding information about the long-term health issues caused by repetitive head trauma.
In this case, a whopping 53 wrestlers (list here for space reasons), including big names like "Superfly" Jimmy Snuka and Joe "Road Warrior Animal" Laurinaitis,  are represented by the same lawyer behind the previous similar lawsuits, Konstantine Kyros of Hingham, MA. Snuka, whose wife/guardian is serving as his representative in the lawsuit, was recently ruled incompetent to stand trial for the 1983 murder of his mistress due to suffering from dementia.
The series of previous lawsuits had largely been thrown out because too much time had passed, with the exceptions being former WWE wrestlers Vito LoGrasso and Evan Singleton. WWE is expected to file a new motion to throw those claims out in a couple weeks. When testifying under oath in a deposition as part of the case, both plaintiffs appeared to be uninformed of the exact nature of their claims against WWE, like fraud. In addition, LoGrasso claimed to have hit his head on the metal steps leading to the wrestling ring in a  match where the video proved that his head never touched them.
In past interviews, Jerry McDevitt, WWE's longtime outside counsel, has criticized Kyros for a number of reasons, including shopping for clients. To wit, a few weeks ago, WWE filed an sworn affidavit from pro wrestler Sean Waltman, best known under the ring name X-Pac, stating as much. Waltman wrote that at a recent wrestling autograph show (Legends of the Ring in New Jersey), Kyros was seen handing his business card to the wrestlers in attendance. In light of that, it comes as no surprise that many of the wrestlers named as plaintiffs in the new case are regulars on the convention circuit.
When reached for comment by email, McDevitt, who has not yet been able to read the whole complaint, told Lawnewz that "it is an embarrassment to see a legal document as poorly drafted and conceived as he the ones [Kyros] turns out. This won't go anywhere." LawNewz will keep you updated as this story develops and if there's anything worth noting in the complaint after we finish reading it.
Have a tip we should know? [email protected]