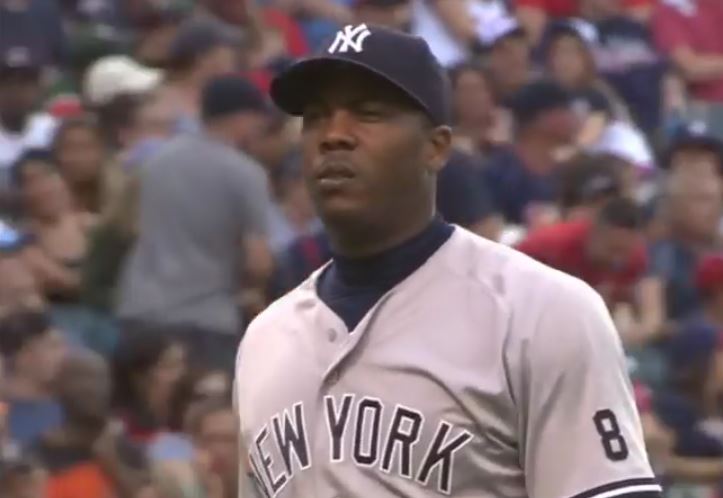 In late 2015, Major Leauge pitcher Aroldis Chapman was accused of domestic violence for allegedly choking his girlfriend and firing a gun indoors. Now that he's a member of the New York Yankees, team owner Hal Steinbrenner is hoping fans can forgive and forget.
"Sooner or later, we forget, right? That's the way we're supposed to be in life," Steinbrenner, who co-owns the team with brother Hank said to USA Today.
The criminal case against Chapman was dropped due to lack of evidence, and he denied putting his hands on his girlfriend, but he did admit to having a fight with her and firing multiple rounds of a gun at a wall inside a garage. While he avoided a criminal penalty, MLB suspended him for 30 games as punishment.
After the suspension, he joined the Yankees in 2016 before being traded to the Chicago Cubs. He won a championship with the team when the Cubs rallied back after Chapman blew a lead in the deciding game. A free agent after the season ended, Chapman resigned with the Yankees, who are happy to have him back.
"Look, he admitted he messed up," Steinbrenner said. "He paid the penalty."
Now the Yankees are paying Chapman $86 million over five years, the biggest contract ever given to a relief pitcher. Despite his past, Steinbrenner is confident that Chapman will draw fans to the ballpark. "There are so few baseball players that I feel can really get fans to buy a ticket and brings their kids to their game, and he's one of them."
[Image via screengrab]
Have a tip we should know? [email protected]