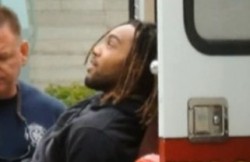 Los Angeles Rams running back Tre Mason was tased twice and arrested Saturday in Hollywood, Florida, according to Broward County police.
Officer Lester Cochenour said Mason was driving at 75 mph, two times over the speed limit of 35 mph, according to the police report. From here on, the official story is that the running back was increasingly uncooperative.
Mason allegedly didn't stop for Cochenour immediately, but kept driving until another vehicle got in his way. Then he didn't give his name or driver's license when asked, the officer said. Plus the car reportedly smelled like marijuana.
"I warned the defendant if he did not identify himself he would be subject to arrest and he smirked as he was making eye contact," the officer said.
When the cop told Mason he was arrested, police say he refused to leave the vehicle. It took three officers and two shocks from a Taser to get him out. The running back was taken to the hospital since he just had a bunch of volts pumped through his body, but he is reportedly fine.
In the end of the day, he was charged with possession of marijuana (for 12 grams found in his car), resisting an officer, reckless driving, and failure to register a motor vehicle.
The Rams are keeping pretty mum about this whole thing for now.
"We are very disappointed to learn of an incident involving Tre Mason in the Miami, Fla., area Saturday afternoon," the team said in a statement. "We are in the process of obtaining more information about the facts surrounding this incident and will have no further comment at this time."
Mason's career started strong after being drafted by the Rams in 2014, but since 2015, he's had to deal with more in-team competition for the running back position.
"Tre has got to have a great off season program," said Rams coach Jeff Fisher at the February NFL scouting combine. He said this might be tricky since the Rams were leaving St. Louis for their first season back in LA, but he claimed Mason understood there was a lot of work to be done. "I think Tre realizes he has to put the commitment in, wherever he is, and have a great preseason."
[h/t ESPN and the Sun Sentinel]
[image of Mason via WPLG screengrab]
–
Follow Alberto Luperon on Twitter (@Alberto Luperon)
Have a tip we should know? [email protected]