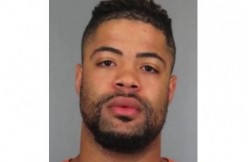 When NFL player Cody Latimer called 911, he probably didn't think he'd soon end up in cuffs. But early Monday morning was a bit of mess for the 23-year-old Denver Broncos wide receiver.
Sheriff's deputies arrived after Latimer called in a domestic violence incident, according to an affidavit obtained by NBC 9. He told them his girlfriend, Jaime Rando, 25, slapped him during an argument. This must have seemed like an open and shut case since Rando reportedly confessed to investigators.
And then deputies ran background checks on both Latimer's and Rando's names.
On March 18, 2015, the football player was ticketed for improper lighting on his vehicle, and missed a court date in April. So this minor traffic citation turned into an arrest warrant. Whoops. Deputies went ahead and cuffed both Latimer and Rando.
Latimer paid off the traffic ticket on Tuesday, and regained his freedom.
— Cody Latimer (@CodyLatimer14) May 31, 2016
According to the affidavit, Latimer and Rando have been dating for three months, and have a child together.
–
Follow Alberto Luperon on Twitter (@Alberto Luperon)
Have a tip we should know? [email protected]