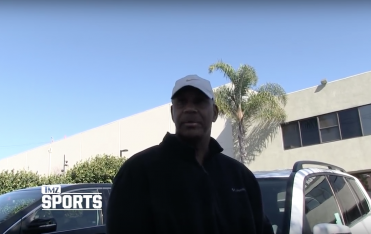 Former NBA player Kermit Washington was indicted by a federal grand jury in Kansas City, Missouri on charges that he defrauded donors to his charitable organization and filed false tax returns, according to court documents unsealed on Wednesday morning.
Acting Assistant Attorney General Caroline D. Ciraolo and U.S. Attorney Tammy Dickinson announced that Washington has been charged with corruptly interfering with the internal revenue laws, conspiracy to commit wire fraud, obstruction of justice and aggravated identity theft. The indictment alleges that Washington induced individuals, including former pro-athletes, to make donations to the charity Project Contact Africa (PCA) by falsely representing that 100% of the donations would go to Africa.   However, Washington allegedly diverted donations from PCA to pay his own personal expenses.
As part of the alleged scheme, prosecutors say Washington referred athletes to pro-football Hall of Fame member and work-comp attorney Ron Mix in exchange for Mix making contributions to PCA.  Mix pleaded guilty on Monday falsely claiming those contributions as charitable deductions on his tax returns.
Prosecutors also allege that Washington allowed unnamed co-conspirators who operated online, for-profit businesses to use PCA's name and tax-exempt status to avoid substantial listing fees with e-Bay and PayPal.  Customers that purchased items through those stores were allegedly falsely led to believe 100% of the proceeds from the purchase would go to benefit PCA.  However, prosecutors say Washington diverted those funds for his personal use.
Washington was arrested on Tuesday in Los Angeles and is scheduled to appear in federal court in Kansas City on June 16.  He faces up to 40 years in prison if convicted on all counts.  Washington is perhaps most remembered for punching Rudy Tomjanovich during a 1977 NBA game.
Have a tip we should know? [email protected]