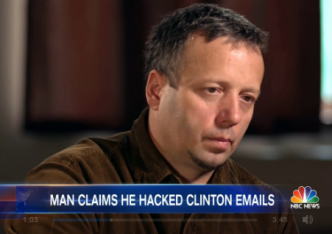 Romanian hacker Marcel Lehel Lazar, who goes by the moniker Guccifer, pleaded guilty on Wednesday to charges of identity theft and unauthorized access to protected computers.
At a plea hearing before U.S. District Court Judge James Cacheris in Alexandria, VA, Lazar acknowledged in a statement that he hacked into e-mail and social media accounts of approximately 100 Americans between 2012 and 2014.  Some of the more prominent victims included longtime Clinton confidant Sydney Blumenthal, former Secretary of State Colin Powell and family members of former presidents George H.W. Bush and George W. Bush.
"Cybercriminals like Marcel Lazar believe they can act with impunity from safe havens abroad, but the Justice Department's partnerships with law enforcement agencies around the world ensure that they can be brought to justice," said Leslie Caldwell, the assistant attorney general in charge of the Criminal Division, in a statement obtained by NBC News.
Lazar was extradited to the United States in late March. During interviews with several media outlets earlier this month, Lazar claimed that he 'easily' hacked into former Secretary of State Hillary Clinton's private email server. Clinton's use of a private email system was first exposed by Lazar after he hacked Blumenthal's e-mail account.
Judge Cacheris set a sentencing hearing for September 1, 2016.  Lazar faces up to seven years in prison and $500,000 in fines.
Fox News reports Lazar has agreed to cooperate with the government in other investigations and to be "reasonably available for debriefing and pre-trial conferences as the U.S. may require."  Lazar also agreed to turnover any documents or other materials "that may be relevant to investigations or inquires."
Have a tip we should know? [email protected]