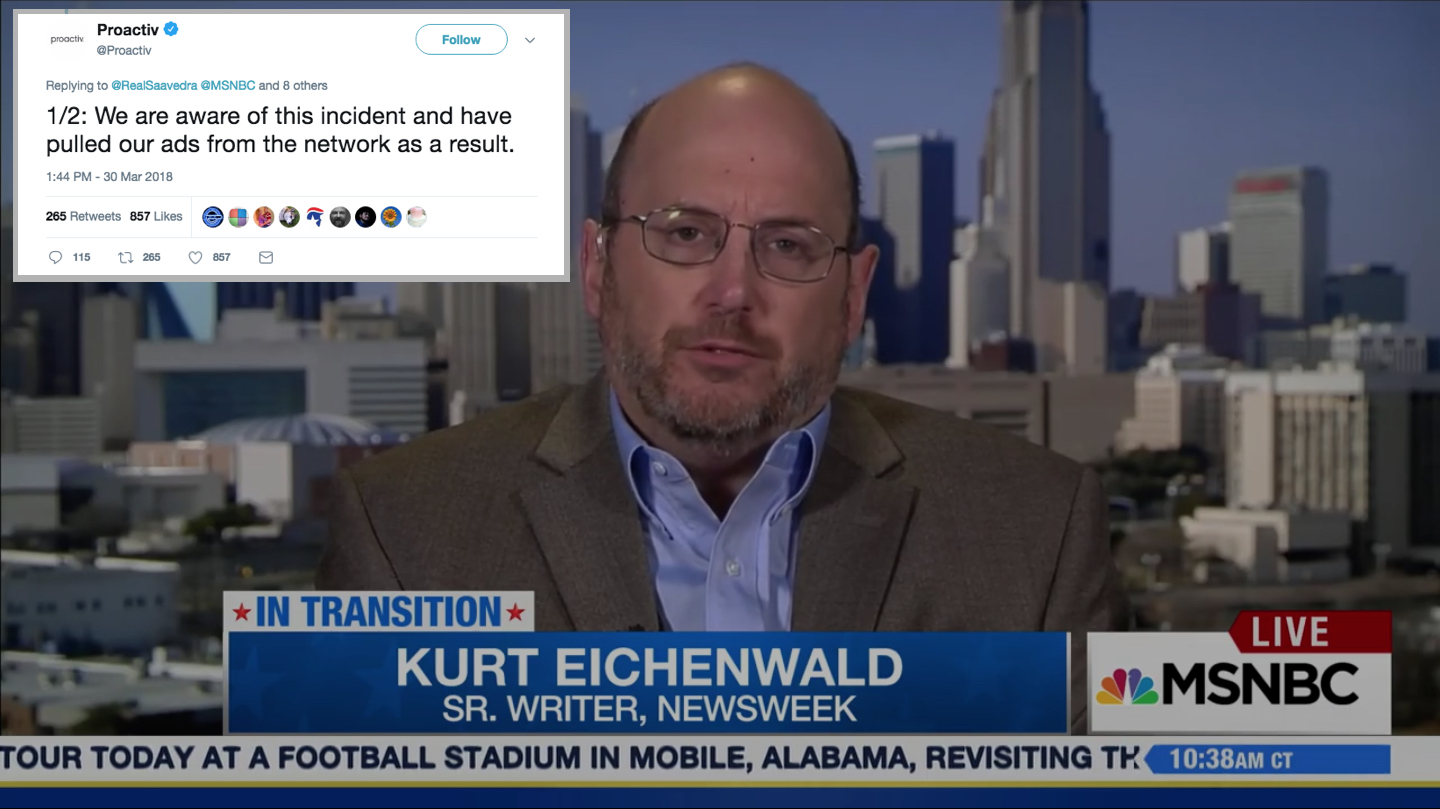 Call it a case of dueling boycotts.
On Friday, leading acne treatment company Proactiv announced it was rushing to remove advertisements placed on MSNBC programming after a former contributor for the liberal network slammed pro-gun Parkland teenager Kyle Kashuv online.
Kurt Eichenwald is currently a senior writer at Newsweek. In a since-deleted tweet sent at 10:35 a.m. on Friday, Eichenwald attempted to call out Kashuv in harsh and dramatic tones and terminology. He wrote:
Kyle…you continue to disappoint. Trafficking in fantasies, fine. Your followers are infantile, your only form of debate is insult. And you wonder why I have no respect for you.
In response, Kashuv called for an advertiser campaign boycott aimed at MSNBC–apparently an indirect rejoinder to schoolmate David Hogg's boycott aimed at Fox News' Laura Ingraham.
Many of Kashuv's followers dutifully complied with the request and began to direct their outrage at various MSNBC advertisers while also highlighting the Kashuv-Eichenwald interaction. Proactiv quickly got the memo and announced, in a series of tweets posted late Friday afternoon:
We are aware of this incident and have pulled our ads from the network as a result. We are working diligently with our media partner to get them removed as quickly as possible. Thank you.
Eichenwald eventually apologized to Kashuv–and Kashuv accepted. Eichenwald then moved to try and stop Proactiv from pulling the plug on MSNBC–seemingly to no avail, at least as of this writing.
Conservative media outlet Twitchy gloatingly pointed out one major issue with the MSNBC boycott campaign–Eichenwald stopped contributing to the network just last month.
NBC Universal released a statement in response to the boycott and advertiser loss, noting, "Kurt Eichenwald is not associated with MSNBC and has not been an MSNBC contributor since February 2018."
Eichenwald simply forgot to delete the reference to his former job from his Twitter bio.
[image via screengrab/MSNBC/Twitter]
Follow Colin Kalmbacher on Twitter: @colinkalmbacher
Have a tip we should know? [email protected]