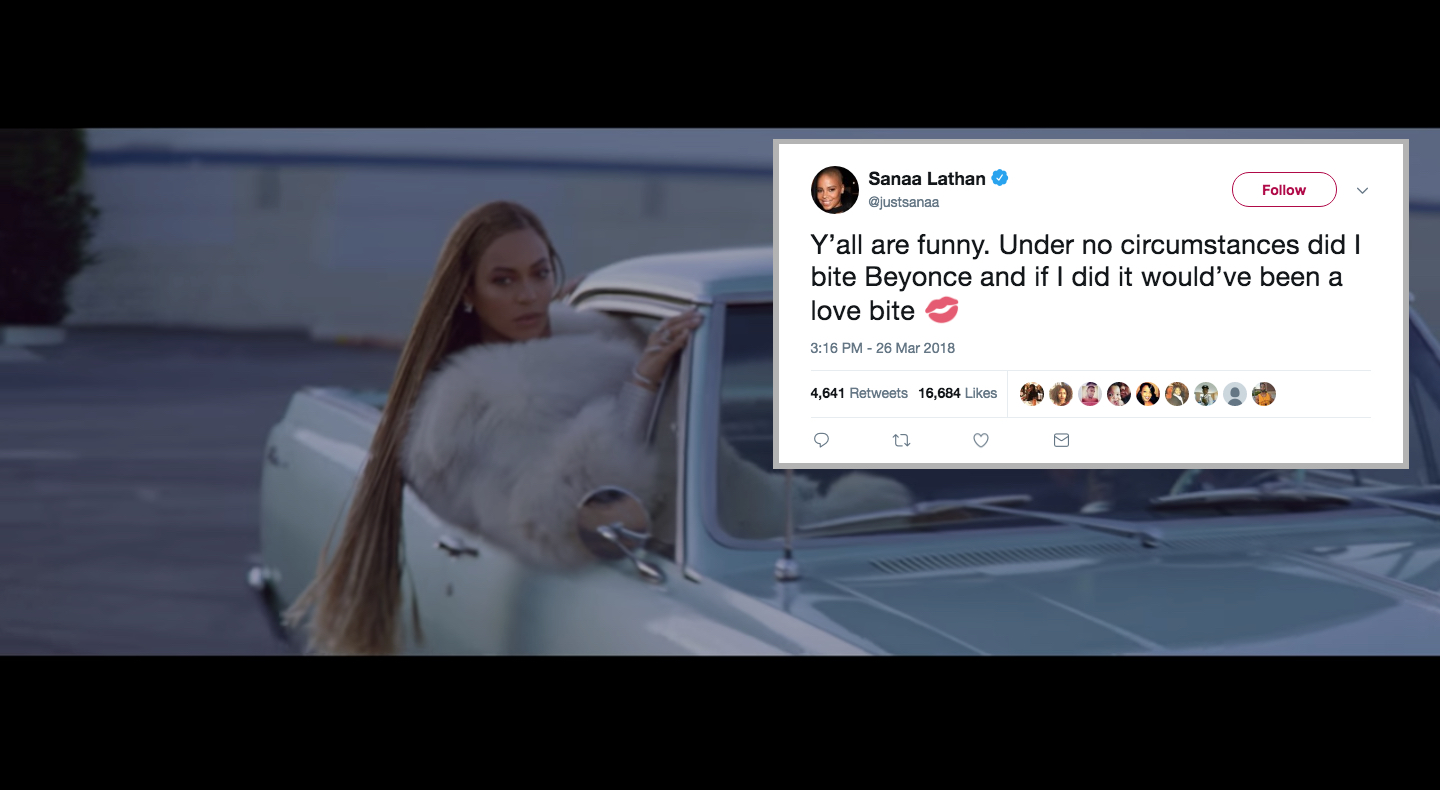 The actress who bit Beyoncé has apparently been outed.
Online gossip magazine, Page Six, cites multiple sources familiar with the matter and claims 46-year-old Sanaa Lathan is the culprit behind the high-profile nibbling incident.
Lathan denied the accusation while appearing to toss out a scenario under which she might have bit the woman affectionately known as "Queen Bey." On March 26, Lathan tweeted:
Y'all are funny. Under no circumstance did I bite Beyoncé and if I did it would be a love bite 💋
Lathan fans and followers doubling as members of the Beyhive employed askance jocularity in response to the denial issued by the "Love & Basketball" star.
One user posted an image of Lathan and Beyoncé standing close together–with the actress's open mouth less than an inch away from the singer-songwriter's cheek. This tweeted photo was captioned, "Yeah, we know legend 😘"
Another onlooker latched on to the seemingly conditional nature of Lathan's denial and posted a tweet captioned "If I did it…"–complete with a gif of O.J. Simpson looking around suspiciously.
The bitten-Bey hullabaloo erupted late last week after actress Tiffany Haddish dished on the toothy turn of affairs–which allegedly occurred at a party last December.
Haddish also claims that she offered to attack the face-biter but was apparently dissuaded by Beyoncé herself–who reportedly empathized with her assailant because, "The bitch is on drugs."
According to Page Six's sources, "It was a big thing in the moment at the party, everyone was talking about how anyone would dare to do that."
As for official confirmation from either Lathan or Beyoncé? That's unlikely. This time, at least, both sides' lips are sealed.
[image via screengrab/Beyoncé/YouTube/Twitter]
Follow Colin Kalmbacher on Twitter: @colinkalmbacher
Have a tip we should know? [email protected]