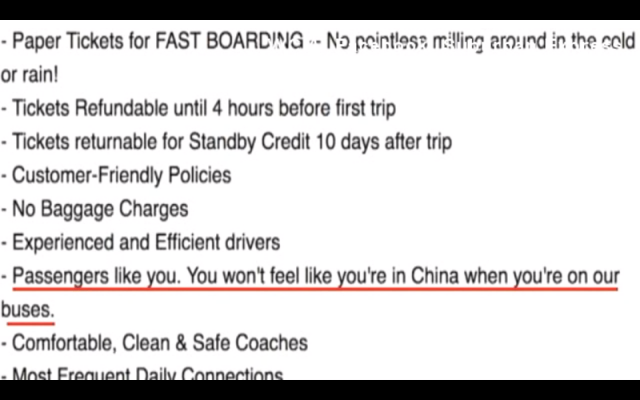 Illinois Attorney General Lisa Madigan has launched a civil rights investigation into a private bus company accused of racially bigoted ads targeting Chinese students at the University of Illinois.
On Monday, Madigan's office announced the investigation into Suburban Express, a Champaign-based bus company that provides service from multiple Illinois universities to suburbs in the greater Chicago area and to O'Hare International Airport.
A subpoena was issued after the company recently ran an advertisement with a weekend promotional email which promised customers, in relevant part, "Passengers like you. You won't feel like you're in China when you're on our buses."
According to a statement released by Madigan's office, the attorney general is looking into whether the company's policies and practices violate the Illinois Human Rights Act. Madigan is seeking various documents and records from the company in order to evaluate their operations. Her statement reads, in part:
I am concerned that this advertisement may reflect that Suburban Express is discriminating against potential customers. Under the law, access to transportation must not be impacted or based on a person's race or national origin. My office is investigating to determine whether Suburban Express' policies and practices violate the law.
Madigan's statement notes that Suburban Express has been given 30 days to comply with the terms of the subpoena and also encouraged people to file complaints against the company online or via her office's Civil Rights Hotline.
Earlier this week, Alderman Ameya Pawar, who represents Chicago's 47th ward, said he planned on filing a resolution to force a Suburban Express representative's appearance before Chicago's City Council to discuss the ad language in question–as well as additional language which accused the University of Illinois of "selling our university to the highest foreign bidder."
Pawar said, in comments to the Chicago Tribune, "This is not acceptable in any way. This is xenophobic, it's bigoted, it's racist. It's not right."
Law&Crime reached out to Suburban Express' owner, Dennis Toeppen, but a response was not forthcoming at the time of publication.
Follow Colin Kalmbacher on Twitter: @colinkalmbacher
Have a tip we should know? [email protected]