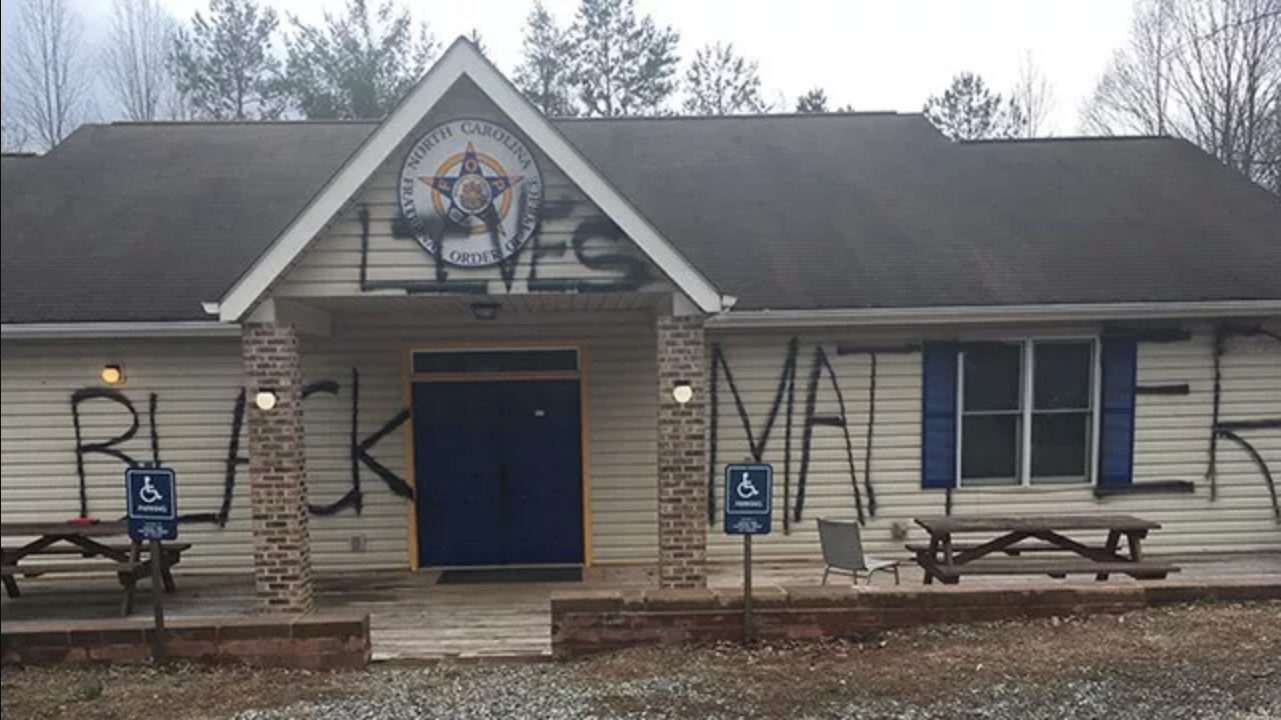 A Fraternal Order of Police ("FOP") lodge in North Carolina was vandalized with spray paint on Monday. The oversized message scrawled across the facade of the small building was a familiar one: "Black Lives Matter."
Additionally, the windows of a parked van belonging to the Asheville chapter of the FOP were broken out and wires to surveillance cameras were slashed before the vandal(s) went for the lodge itself, according to local ABC affiliate WLOS 13.
The Asheville Police Department ("APD") believes the incident occurred sometime around 4 a.m. on Monday because at least one surveillance camera was still operational—and apparently caught a glimpse of a suspect who so far has only been identified as a white person wearing a hoodie.
The act of politically-charged vandalism adds to weeks of turmoil for the APD. According to multiple media outlets in the Tar Heel State, Monday's incident is widely believed to be a response to a video released late February showing a white APD officer viciously attacking a black man suspected of jay-walking.
In that video, now-former APD officer Christopher Hickman repeatedly beats and chokes Johnnie Jermaine Rush. After a whistleblower leaked the video to the press, Hickman was charged with assault and communicating threats. Then the FBI opened a probe into Hickman. After that, the APD's Chief of Police, Tammy Hooper, informally offered to resign.
Just today, APD officers removed multiple fake signs prohibiting jay-walking with messages critical of police brutality:
City of Asheville removes at least 18 fake 'no jaywalking' signs https://t.co/C3REZaeOFD #LiveOnWLOS pic.twitter.com/njB3HQdkwR

— WLOS (@WLOS_13) March 13, 2018
Rondell Lance, president of the Asheville FOP told local CBS affiliate WSPA 7 that the vandalism was particularly upsetting because his chapter has condemned the Hickman incident. Still, Lance says he doesn't believe the vandalism was actually the work of anyone involved with Black Lives Matter Asheville. Rather, Lance says, it's likely the message was spray-painted by an agitator attempting to sow division.
A discussion regarding the vandalized FOP lodge and the fake signage placed around the city later occurred on the Asheville Black Lives Matter Community public Facebook group. This discussion indicated many group members supported the placing of the fake signs but were critical of the lodge being vandalized.
In addition to the spray-painted message, cut surveillance wires and broken van windows, the culprit also reconfigured the lodge's American flag, removing it before replacing it upside–an official signal of "dire distress," according to the U.S. Flag Code.
[image via Asheville Police Department]
Follow Colin Kalmbacher on Twitter: @colinkalmbacher
Have a tip we should know? [email protected]