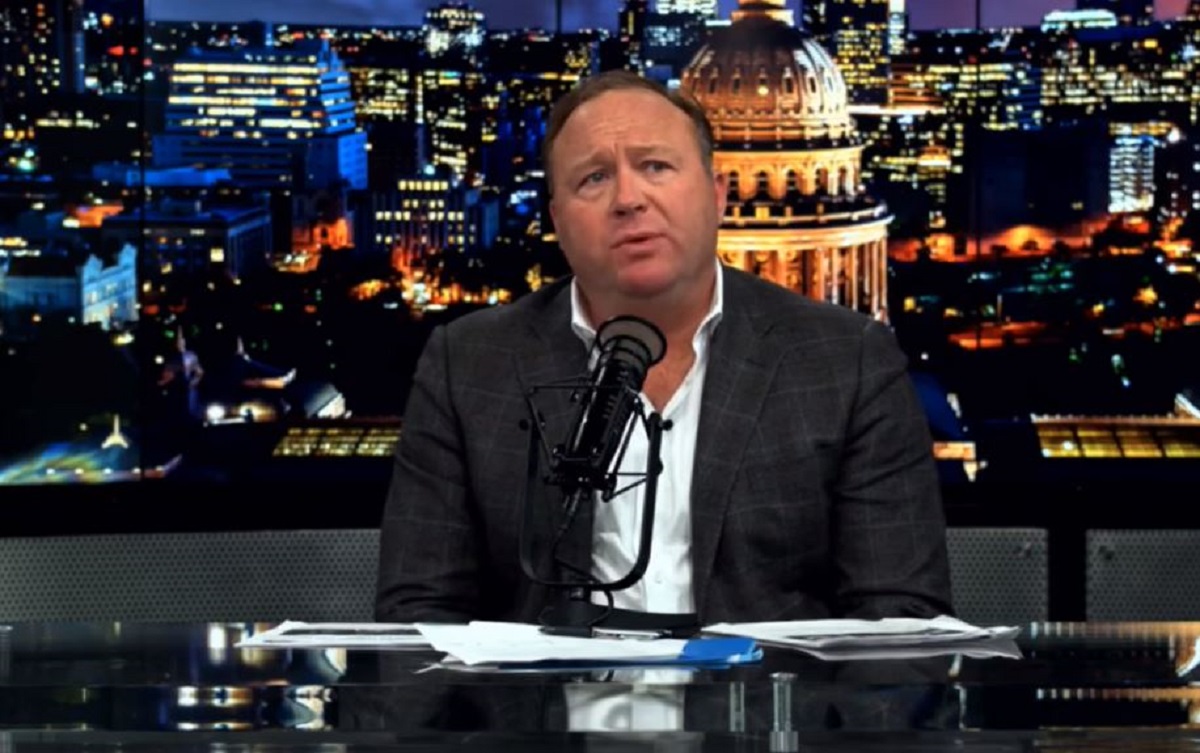 A Google search of Brennan Gilmore will turn up a number of conspiracy theories claiming that he was behind the attack at the "Unite the Right" rally in Charlottesville, Virginia last year that took the life of counter-protester Heather Heyer. That's because of "lies" spread by the likes of InfoWars and other right-wing publications, according to a defamation lawsuit Gilmore brought on Tuesday. In a new InfoWars video, Jones appeared to liken his legal battles to a religious battle between good and evil.
"This is an attempt to take over the whole damn world," he said.
The complaint, filed on Gilmore's behalf by Georgetown Law's Civil Rights Clinic, says that Gilmore was present at the Charlottesville rally as a counter-protester, and witnessed the attack that killed Heyer and injured dozens of others. Since he was already recording the protest, he managed to capture the attack on video, the lawsuit says. He then posted the video on Twitter.
Soon after, he claims sites including InfoWars and Gateway Pundit, as well as individuals like Colorado Republican Party vice-chair Derrick Wilburn, and blogger Scott Creighton started accusing him of being in on the attack.
"Within 24 hours," the complaint says, " the Defendants' first blog posts about Mr. Gilmore appeared online, accusing him of being a CIA or 'deep state' operative who helped orchestrate Fields' attack as a 'false flag.'"
The complaint cites Creighton's blog post from August 13, 2017, the day after the attack, and an accompanying video, which accused Gilmore of being a "disgruntled former [State Department] employee" who knew that the attack was going to happen, and was there to record it to undermine the Trump administration.
Gilmore's lawsuit notes that he had in the past worked as a Foreign Service Officer in Africa, and as chief of staff to Tom Perriello when he ran for Governor of Virginia in 2017.
The following day, the complaint says, Gateway Pundit posted an article with the headline "Random Man at Protests Interviewed by MSNBC, NY Times Is Deep State Shill Linked to George Soros." The article says that the State Department orchestrated the Charlottesville attack, and Gilmore was there to help cover it up.
The lawsuit goes on to describe an InfoWars article and video from the next day, titled "Bombshell Connection Between Charlottesville, Soros,CIA," which identifies Gilmore, scrolling through his Twitter page, accusing him of being part of an elaborate plot "to oust President Trump." It also discusses a subsequent video by Alex Jones that identifies Gilmore, accusing him of being paid by liberal political donor George Soros.
On August 19, the lawsuit says, former Congressman Allen B. West posted an article on his website written by Wilburn titled "BOMBSHELL: New Evidence Suggests Charlottesville Was a Complete SET-UP." That article says, "So the first man on the scene . . . just happened to be a State Department insider," referring to Gilmore, and goes on to say that this is fishy, and that while unverified, it "points directly to the reality of the 'deep state' and more importantly to the lengths that the Soros/Clinton/Obama one-world government cabal will go in order to realize their desires for 'fundamental transformation.'"
The lawsuit describes the allegations in these articles and videos as "lies" and "paranoid fantasies" that "have no basis whatsoever in fact and are demonstrably false."
The lawsuit says that Gilmore "attended the protest against the 'Unite the Right' rally because he opposes racism and bigotry, not because he was sent there by the State Department or any other 'deep state' or covert operation."
Gilmore claims that since the publication of these materials, he has faced "a barrage of harassing and threatening messages that made him fear for his personal safety as well as the safety of his family members." The lawsuit states that the defendants (Jones, InfoWars, Gateway Pundit owner James Hoft, the authors and contributors who created the materials on those sites, West, Creighton, and Wilburn) should have known that posting these messages would have led to such threats, given past similar incidents involving others.
The lawsuit makes claims of defamation and intentional infliction of emotional distress, and seeks damages for emotional distress, "reputational, emotional, and professional injuries," and punitive damages.
Jones said in his InfoWars video Monday night that all of the lawsuits he is currently facing are attacks from the left aimed at stifling freedom of speech. He used religious imagery to describe how he felt about the matter.
"I'm willing to be guided by God Almighty, the creator of the universe and the four corners of the 12th dimensional helix that is the giant hourglass in a moosehead on fire that is God's mind," he said.
He later simplified, saying, "I just leave it in God's hands."
Law&Crime reached out to InfoWars for additional comment, as well as to, West, Wilburn, and Creighton for comment, but none have responded at the time of this publication. Creighton did address the lawsuit in a blog post on Tuesday, saying:
There is not a single thing in my article that is a lie. Not one single thing. It is research and my conclusion based on that research, was stated clearly as my OPINION.

And it is a LIE and SLANDER that this lawyer commits when she claims my purpose was "designed to incite incessant harassment and violence against private citizens" That is a direct LIE by her about me.
Hoft told Law&Crime, "We are currently looking over the details of this frivolous lawsuit."
[Image via InfoWars screengrab]
Note: This article has been updated with James Hoft's statement.
Have a tip we should know? [email protected]