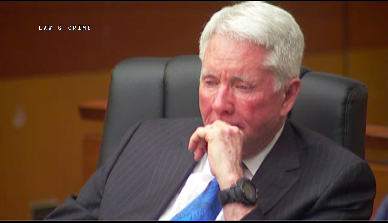 Opening statements concluded Tuesday morning in the case against former Atlanta attorney Tex McIver. McIver is charged with murder, felony murder, aggravated assault with a deadly weapon, possession of a firearm in the commission of a felony, and three counts of influencing witnesses and bribery in connection with the 2016 shooting death of his wife, Diane McIver. McIver teared up as the defense attorney delivered her opening statements.
On September 25,2016, Dani Jo Carter, a friend of the McIvers, was driving with the couple when she got off of a highway because it was backed up. Tex, who was asleep in the back seat, woke up and took out a gun because he said he believed he was in a bad neighborhood and saw people in the street. Diane was in the front passenger seat. At some point, the gun held by Tex went off. He later claimed he had fallen asleep again, and that when the car stopped, he lurched forward and accidentally pulled the trigger. Prosecutors believe he pulled the trigger on purpose.
A bullet traveled through the seat and struck Diane, she was driven by Carter to Emory University Medical Center to be treated for her injuries. Diane later died at the hospital.
Details in the timeline of Diane's shooting were mostly agreed upon by both the prosecution and the defense. Both Fulton County Chief Senior Assistant District Attorney Seleta Griffin and Defense attorney Amanda Clark Palmer of McIver's defense agreed that Tex did in fact shoot Diane with a .38 revolver that was in a plastic bag that was handed to him by his wife. The majority of the case will depend on whether prosecutors can prove if Tex's shooting of Diane was intentional or not.
Griffin claimed that Diane's shooting was "planned, intentional, and calculated", arguing that the gun sitting in a plastic bag prevented gunshot residue from getting on Tex's hands or clothes. Griffin also argued that, according to a ballistics expert, the trajectory of the bullet and Diane's injuries, the gun was aimed at her back, not sitting in Tex's lap or accidentally discharged. It was also argued that the revolver was tested and was in perfect working condition, showing it had no hair trigger, and could not have gone off accidentally.
Griffin also told jurors that Tex gave at least 6 different versions of what happened in the car when Diane got shot to various members of the medical staff at the Emory University Medical Center where she was treated for her injuries before she died. The prosecution's case relies on their belief that Tex was financially reliant on Diane, who made more money than him at the time of her shooting, and that Tex stood to benefit financially from her death.
The defense disputed the financial gain argument, claiming the two had a very loving relationship. Additionally, Palmer directly argued that the shooting was not intentional based on ballistics, claiming that after Tex requested the gun, and his wife handed it to him in the plastic Publix bag, he began to dose off again. The defense said that the gun was lying sideways in his lap and went off accidentally while he was in possession of it.
The defense and the prosecution both argued that the revolver involved had 2 modes. When the hammer on the top of the gun was not cocked, and the gun is in double action mode, it can be fired by 12 pounds of force when pulling the trigger. When the gun is cocked, in single action mode, it required only 2 pounds of force to fire. Palmer argued that though forensics cannot determine what mode the gun was in when it was fired, in single action mode, it could be considered to be a "hair trigger" or easy to fire.
Palmer also stated that the gun was not pointed upright and aimed directly at Diane's back, but sitting sideways on Tex's lap at the time of firing.
The defense also claimed that Tex suffered from a sleep order called, Rem Behavior Disorder, that can cause those effected to experience physical movement and full body jerks as they are asleep.
The trial is set to continue for the rest of this week.
[Image via Screengrab]
Have a tip we should know? [email protected]