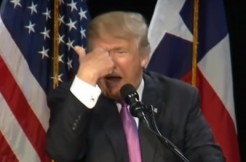 At a rally on Friday night, Donald Trump said it "would have been a beautiful, beautiful sight" if an attendee at the Pulse nightclub shot the mass killer Omar Mateen in the face last Sunday. Fantasy aside, though, he followed up by saying he'd "preserve" the Second Amendment as president.
He told a crowd at Woodlands, Texas the following:
So don't let them take your guns away, and believe me, you put me in there, we're going to save that Second Amendment, we're going to save your guns. They're not going to take away your bullets. They're not going to shorten up your magazines. They're not going to do anything.
You can see a clip below from Right Side Broadcasting:

The reference to magazine sizes is interesting. According to the Law Center to Prevent Gun Violence, eight states and the District of Columbia generally ban high-capacity magazines, with certain exceptions. Depending on the jurisdiction, "high capacity" might mean anything with more than 10 or 15 rounds.
Democrats have pushed for tougher gun laws, with a 15-hour filibuster in the Senate that ended early Thursday morning. Sen. Dianne Feinstein (D-Calif.) proposed giving the Attorney General more power to stop suspected terrorists from getting firearms while Sen. Chris Murphy (D-Conn.) wants to close loopholes, requiring background checks for firearm purchases online and at gun shows.
Mateen killed 49 and wounded 53 people at a gay nightclub in Orlando, Florida. In a 911 call, he voiced his support for the terrorist organization ISIS. It's the deadliest mass shooting in U.S. history.
[h/t The Hill]
–
Follow Alberto Luperon on Twitter (@Alberto Luperon)
Have a tip we should know? [email protected]