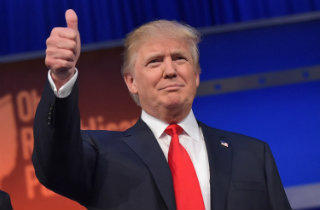 There's one allegation against Donald Trump and his various associated entities that can't really be denied anymore: That the President Elect improperly used funds from his non-profit Donald J. Trump Foundation to fund personal and/or business matters. On Tuesday, the foundation admitted to such "self-dealing," as the Washington Post found when obtaining a portion of the charity's 2015 tax filings from Guidestar, a website that tracks non-profit organizations.
When reached for comment by Post, Guidestar confirmed that the tax forms in question were uploaded by Morgan, Lewis and Bockius, the Trump Foundation's law firm. In a 2015 tax form, the Foundation had checked "yes" next to questions asking if the organization has transferred "income or assets to a disqualified person" and if they had done so in prior years. The forms do not, however, say what these acts of self-dealing were, when exactly they occurred, and if the Foundation had already paid tax penalties for them. Other forms that would contain this information has not been posted.
The New York State Attorney General's Office, which just settled its lawsuit against Trump over defrauding students of the "Trump University" business classes, confirmed to Post that their investigation into the Foundation is ongoing. Trump's representatives did not reply to the newspaper's request for comment, nor did the IRS.
Also in the tax documents, among other items of interest, was evidence of Trump's first donation to his foundation since 2008. The Trump Corporation, which he owns 100% of, donated $566,370 to the Foundation in 2015. There was also a $50,000 donation from Trump Productions, the company he used for his production role in creating "The Apprentice."
[Photo: Wikimedia Commons]
Have a tip we should know? [email protected]