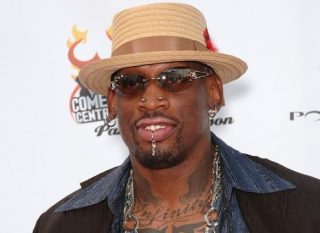 Five-time NBA champion Dennis Rodman was charged on Monday for allegedly driving the wrong way, causing an accident, and then fleeing from the scene. Prosecutors say that the 55-year-old was driving an SUV in the wrong direction on a California highway back in July, causing another driver in a sedan to swerve into a dividing wall in order to avoid a head-on collision, according to The Los Angeles Times. 
Rodman, who gained notoriety with the Detroit Pistons, San Antonio Spurs, and Chicago Bulls for his rebounding prowess and outlandish style, allegedly drove off before police arrived, without exchanging information with the other driver, who had called 911. Investigating officers determined that Rodman was involved, and the Orange County District Attorney's Office say the former superstar gave them a false story about what happened.
If convicted, Rodman could face up to two years in jail. Despite not actually hitting the other car, he is facing a misdemeanor charge of hit-and-run with property damage, as well as charges for driving without a license, driving across a dividing section, and giving false information to a police officer. He is scheduled to be arraigned in Orange County Superior Court on January 20, 2017.
[Image via Shutterstock]
Have a tip we should know? [email protected]