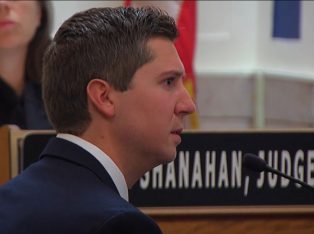 Hamilton County Prosecutor Joe Deters told reporters on Tuesday that his office will move forward with plans to retry former University of Cincinnati police officer Ray Tensing. Tensing was charged with murder for the shooting of motorist Sam DuBose during a traffic stop in July 2015.
As you may recall from LawNewz.com's live coverage of the first trial, jurors spent fours days deliberating and were unable to reach a unanimous verdict on the charges against Tensing. Judge Megan Shanahan was then forced to declare a mistrial.
LawNewz.com obtained a statement from the prosecution team requesting a retrial, but this time they will seek to move the trial outside Cincinnati.
"After careful consideration, I have decided that the Tensing case will be retried. This decision was made after review of the trial transcript, discussion with some of the jurors, and consultation with my staff,"  Deters said. "I am hopeful that a second jury will be able to reach a decision to bring justice in this case for the victim's family and our community."
Tensing's attorney, Stewart Mathews, objects to the retrial, warming prosecutors it  "would be fruitless."
[image via screengrab]
Have a tip we should know? [email protected]