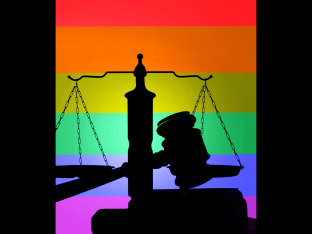 A new study of state supreme court justices claims to have found evidence that justices who are elected to the bench are less likely to support gay rights as compared to justices who are appointed. The study was commissioned by the gay rights legal advocacy group Lambda Legal.  The group reviewed 127 state supreme court decisions involving LGBT issues dating back to 2003.
According to the Lambda Legal study, justices elected in partisan elections supported LGBT rights in 53 percent of the cases.  The study found support for LGBT rights increases to 70 percent for justices elected in non-partisan elections and 76 percent for justices who face retention elections.  Finally, the study found LGBT support jumps to 82 percent for justices who are appointed.
The study was overseen by Chicago-Kent College of Law professor Anthony Michael Kreis, who told The New York Times the differences may be the result of partisan primary elections where justices are more mindful of the party base.  This theory is arguably supported by other studies that have found judges are more likely to impose harsher sentences in serious criminal cases when they are facing re-election.
Professor Kreis also told the newspaper the variation in support for LGBT rights between elected justices and appointed is statistically significant.   So much so, in fact, the study claims it provides proof that "judicial elections undermine judges' ability to perform their essential role as independent arbiters of the law."  Therefore, the study argues it is time to do away with judicial elections:
"It is time to stop putting our rights—most especially our constitutional right to due process—at risk by continuing the practice of electing state judges," the study says. "The damaging consequences resulting from the explosion of political and special interest group involvement in judicial elections, and in particular, the impact on the 26 legal rights LGBT people, has become undeniably clear. Similarly, retention elections are now systematically targeted by politicians and special interest groups."
[image via zimmytws/shutterstock]
Have a tip we should know? [email protected]om